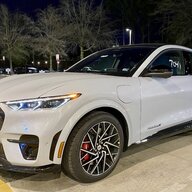 First Name

Ryan
Joined

Oct 15, 2021
Threads
Messages
Reaction score

23
Location
Vehicles

Mach-E GTPE

I have been following this site since I 1st ordered in May 2021 and have gleaned a ton of great tips and information from the posts. I know that A forum like this is sometimes a place to vent frustrations and share bad experience, but I thought I would share my overall positive experience. My 1st order was a GT (non-PE) that arrived in October, but it was unfortunately not working when delivered. After two weeks in service it Turned out to just be a loose connection, but I bailed and the dealer ordered me a new one. On January 6th I got an unexpected call from my dealer that they had a 2021 that was my exact specifications down to the floor mats. Do you want it? Ahhhh let me think?.. Hell YES! My order is still showing built but no delivery date.

Dealer was great and I even managed to get it slightly below MSRP using the x plan. They did try to slip in extended warranty and some TruCoat, but quick removed when I politely declined. I did fall for the expensive window tint that I would Have gotten from my local guy for about half the price. Dealer set up the basic functions and my Sales Guy even knew a lot about the Mach E.

Yesterday we went for a drive and passed 1000 miles. Observations after 1st 1000 miles; PAAK works great for me. I have an iPhone 11 and it has opened every time. 2-3 times I have had to wake up my phone and then it connected and let me in the car. I charge at home with a Grizzl-e 40 AMP dumb charger and it works great. Seem to get about 26 miles per hour of charge. Ford Pass app is easy to use and has only been down once since I have started using . I wish it had a button to precondition without scheduling. it has been cold here so precondition and heating cabin before leaving really seems to help max range. At 85% it shows 171 miles when I leave in the AM. Most of my trips are around town, but I did drive from Richmond to Norfolk (115 miles) with no issues. Blue cruise worked great on the interstate. Yes it drives like a new driver, but is fine for how I would use. My GOM showed 101 miles of range left, so I decided to charged at EV go station in Norfolk and that worked fine. Best I got was 78 kW but I think that was the charger I used. Everything else about charging was easy and since I was eating lunch while charging I did not mind the slower charge. Infotainment is slow to start up, but after about a minute is works well and I don't notice any lag. I don't think I have received any OTA updates, but I think that the GTPE is last to get them so I will patiently wait.

Love how the car drives! Lots of people want to know what it is and even My Tesla friends are impressed(they won't say it out loud but I know they are). If you order GTPE and live where it gets cold be prepared to get some all season tires. Other than that my transition to EV life has been easier than expected.