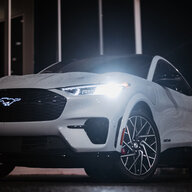 First Name

Tom
Joined

Aug 30, 2021
Threads
Messages
Reaction score

107
Location
Vehicles

2021 Space White Mustang Mach-E GTPE
Occupation

Sales

Hey everyone!
On my way into work this morning, I put my GoPro up and recorded a video to show some of my customers what their BlueCruise experience would be like when their F-150 and Mach E's get the OTA update in the near future.
I've uploaded it twice where you can see the whole 14-minute video as well as a condensed version where I turned the video speed up from 100% all the way up to 1,000% where the commute lasts a little over 1 minute lol... I'm sure not everyone wants to watch me drive in silence for 14 minutes lol.
Take note of the IR sensor/camera system behind the wheel that the GoPro picks up. Super cool but one thing I've noticed (not shown in this video) that might bug some people is that you will get a "Watch The Road" prompt when you're only using lane-centering (not full handsfree BlueCruise) if you're someone that's accustomed to driving a manual transmission as I am. I think the F-150's will not have this issue as I can see that the main IR sensors are in the pillars.
A lot of different stuff went on during this commute which was somewhat intentional as I wanted to show as much as I could about the system. The video includes the lane changing process, "Auto Resume" feature for stop-n-go, prompts to resume control on turns that are not fully mapped for BlueCruise yet**, warnings for getting too close to one lane or another driver beside me, and at one point a warning to "WATCH THE ROAD!" lol.
Lane changing is something I've learned to like more in BlueCruise than I thought. I originally was kinda upset that it didn't change lanes on its own but I like that when I signal for a change, I can just speed up at my own pace and the car will resume BlueCruise automatically without having to re-enable the system. I've heard that if you don't get the full autopilot system from Tesla, the base self-driving features have to be constantly reinitiated to work. It's pretty seamless in BlueCruise.
The watch the road warning was because I was trying to reset my "EV Driving History". I realized that in my GTPE I love to go fast and accelerate a little too aggressively so I wanted to have a little more modest Range showing on the screen lol. I didn't want people to judge the car's range too harshly due to me driving like a bat outta hell all the time lol.
** I've noticed over the last few weeks having BlueCruise that when "Aggressive" turns come up, I'm sometimes prompted to resume control... I originally thought it was due to just that, the turn being aggressive. I don't know if that's totally the case as I've noticed that when I have my hand on the wheel but not really applying force, the car's lane-centering does just a good of a job at navigating that turn as if it were in BlueCruise. I bring this up because I feel like I've seen people claim "BlueCruise won't work on hard turns" but I don't think that's the case as been on plenty of equally aggressive turns and BlueCruise remains active. The car seems super capable of navigating those turns if it knows I'm there as backup. I feel like the "Resume Control" prompt in a lot of cases is more based on the turn not being fully mapped and the more I think of it, I feel like there could be obstacles (overpasses, clouds) that have obstructed the satellite that helped map the road in question during development. This observation is 100% pure speculation on my part but I figured I'd bring it up.
One last thing, there are definitely spots where there are serious errors in the BlueCruise map database (idk if that's what the official jargon for what fuels BlueCruise mapping system) where sometimes not only faint lines or harsh turns on the road can throw the car off its rocker but there are turns that seem not officially accounted for and can cause the car to go batshit crazy lol. There is one on my commute home at night that I know 100% of the time, I need to resume control before it even asks me too or else it's going into the next lane without warning. I'm not concerned about it for myself or even anyone else as I think Ford somewhat expects this and that's why the attention/watch the road system is so picky lol.
Click the image or view your video from Tom Snyder
here
Click the image or view your video from Tom Snyder
here


Last edited by a moderator: