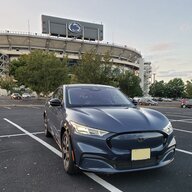 Joined

Mar 12, 2021
Messages
Reaction score

78
Location
Vehicles

'21 MME Premium ER, '18 Highlander Hybrid

We had a road trip planned and happened to take delivery of our extended range, RWD MME 2 weeks beforehand. Now or never... we dove head first and packed up the car, our 4 year old daughter, 2 year old son, and dog and headed from NJ to St. Louis.
For those who like to delve into the data and numbers I wanted to start this thread in hopes you could teach me a thing or two about some oddities related to charging.
Before I get to that, the car and the trip were/are amazing. There was ample room in the back seat for two young kids, our dog, and more than enough toys to (attempt to) keep our kids entertained. The frunk and below floor storage in the rear gave us much needed storage for extra items leaving the trunk for our luggage and items we needed easy access to. The car was a gem to drive and got lots of attention on the road and at DCFCs. As many before have stated, this car is such a joy to drive. Are there some quirks... definitely, but nothing that made us regret the purchase or taking it on our adventure.
Now on to the purpose of this thread.
Observations and Questions:
1. On about half my charge sessions when I plugged in, the DCFC would charge but max out at +/- 33kW or ramp up to high speed but only for a few minutes and then drop down to about 33 kW. This was not an 80% charge cliff issue. The car was often only at 20% SoC or less. Solution: I would unplug, switch bays and then it would ramp up to 110-120 kW. This was definitely not a one off and not a coincidence, it happened multiple times at multiple EA stations. 110-120 speed seemed to be the most consistent max. draw I would pull. Is this an issue with the MME (what it is calling for) or with EA's DCFCs?
2. A few EA bays wouldn't activate. Solution: Switched bays and then no problem.
3. At one EA station both on the trip out and the trip home (different stations), EA charged (kWh) the car but there was some error and didn't charge me ($). No complaints.
4. After using up my Plug & Charge allowance and deactivating to use EA's Pass+ rate I noticed two times the EA app was showing power of 200+ kW whereas the DCFC console was showing a more realistic charge rate. Obviously the 200+ was wrong but it makes me skeptical to leave the car charging by itself and rely on the EA app.
5. In PA, the EA stations were $/min, $0.24 for Pass+. If you do the math, charging is so cheap if you can keep even a modest charge rate. The cost per kWh was on par with charging from home. I wish I realized this earlier and deactivated Plug & Charge on our way out to STL. Save your credits for $/kWh stations.
6. At the two $/min EA stations we stopped at, our charge speeds were well above any of the other $/kWh stations. We maxed out near 157 and stayed at a higher charge rate far longer. I'm not sure if this was coincidence, a result of similar conditions (they were back-to-back on the same day), or what but it was a pleasant surprise from the previous speeds were getting (note 1 above).
7. Be leery of the 'Trip' screen data.
Prior to our trip I reset 'Trip 1' intending to use this to track our trip. After leg 1 (220 miles, 95 degree heat, 75 MPH highway driving) it was reporting 3.9 mi/kWh. Amazing! Not so fast. If I did the math myself (see notes below and the attached chart) I was getting closer to 3.0 mi/kWH. I hadn't noticed previously but my 'Trip 1' mi/kWh was (and remains) identical to my 'Trip 2' value, which has been tracking the lifetime of my driving. The data provided is just wrong! All the posts about ignoring the GOM (yes I know) and instead multiplying your mi/kWh x battery pack (in my case 88) have no value if the car is not reporting accurate mi/kWh. Has anyone else had this issue with 'Trip 1' showing the same efficiency as 'Trip 2?'
Times are inaccurate. As others have suggested it seems to restart at 24 Hrs and not keep track of days, but I couldn't validate that.
I abandoned using 'Trip 1' for the trip out to STL. On the trip home I tried to be diligent about capturing the data on 'This Trip' for each leg before I shut the car off and those values seemed to be more accurate.
'This Trip': Anyone figure out what causes 'This Trip' to reset to 0? Most of the time when you turn the car on it does but there were plenty of times where multiple stop-and-start cycles would track on the same trip. It's not based on a home or charging location either. Tried out that theory. Seems to be random.
8. DCFC-ing was a really nice break every few hours on a long road trip, especially with little kids. Not once did we feel like we were sitting around waiting for the car to finish charging. It was a good time for meals, to stretch our legs, and for the kids to play. It's nice that most of the Walmart EA stations are in the back corner of a parking lot. (Maybe one of you found our kids' chalk art.) We met plenty of folks who just wanted to chat about the car and few who did a stealth drive by photoshoot.
See attached for a log I kept to keep track of mileage, SoC, charge sessions, etc. I couldn't figure out how to upload the actual Excel file.
Column numbers (top row has the numbers) 1-5 provide basic info on mileage and SoC
Columns 6-8 provide info on energy consumption using some basic calculations based on the SoC change and mileage for each leg, along with what the 'Trip Screen' reported for mi/kWh
Columns 9-17 have info on the charge session including both kWh reported by the EVSE as well as calculated based on the SoC change multiplied by an 88 kWh usable battery
9. Energy Usage and Efficiency (Columns 6, 7): Based on the SoC change multiplied by an 88 kW usable battery I calculated out how much energy was used each leg and the mi/kWh based on the odometer reading. I used this for comparison to the 'Trips' mi/kWh (see point 6 above). Note: On the trip home using the 'This Trip' screen the mi/kWh were all within 0.1 mi/kWh which I can chalk up to rounding.
10. Energy Usage, Calculated vs Charger Reported (Columns 11-13): Note that the EVSE reported a difference of between -9% less and up to 14% more kWh compared to a calculation of SoC change multiplied by the battery pack.
Negative values were all on small charges so I assume that's a rounding issue.
EA stations pretty consistently reported +/- 5% more kWh than a SoC calculation. Is this typical efficiency loss?
The 14% was a free ChargePoint station. Not sure what the deal is with that one.
11. If any of my assumptions or calculations are incorrect , feedback is appreciated. I wish the car would visualize some of this for us.
Closing Notes:
Have some patience with Electrify America stations. All of our charge sessions worked out fine, but they often took a bit of troubleshooting and reconnecting.
Plug & Charge worked well.
$/min DCFCs are so cheap if you can maintain a decent charge speed! Do the math and save your Plug & Charge kWh for $/kWh stations.
Expect charge speeds to be below the 150kW advertised max. for the car. The majority of the charging was well below this.
Ford should provide better logs, historical data, and infographics on the efficiency and battery usage of the car. It's virtually non-existent other than the 'Trips' screen mi/kWh which I've lost faith in (see point 7 above). I would love to be able to see efficiency logs/graphics, charge curves, etc. built into the UI.
I only saw one other MME our entire trip and it was at an EA station in Ohio. Ironically we were both Infinite Blue, extended range, RWD. He was a Buckeye fan and I'm a Penn Stater so we'll let that bit of poor judgement slide.
For those who got through this long post, I give you credit. For those who may have feedback, similar or different experiences, chime in.
The car is a winner and this road trip proved it to us.
Last edited: