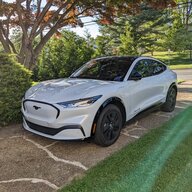 First Name

V
Joined

Oct 4, 2022
Threads
Messages
Reaction score

18
Location
Vehicles

2022 California route 1 Mach E, space white
Occupation

Medical illustrator

The overview:
In August, we road tripped with our toddler from DC to Massachusetts to Prince Edward Island in "Eva", our 2022 California Route 1 Mach E. Overall, the trip went really smoothly. We broke the trip up into 3 days each way (on account of the toddler, not the EV). Eva's range generally exceeded the EPA estimated range (yay summer weather!), averaging about 340 miles on a full charge (we didn't go 100% to 0%, but got ~170 miles from 100%-50%, mostly highway driving). We didn't have any charging issues, but definitely planned carefully for the Maine to PEI stretch, which is thin on charging infrastructure.
Details:

Day one:
~450 miles. DC to Boston, MA to see family. We charged once at an Electrify America (EA) location. Traffic around New York City and Connecticut was awful, but at least it increased our efficiency.
There are many high speed chargers in this corridor (DC to NYC to Boston), so we could be flexible about when and where we stopped.
The EA station was in a parking garage near a grocery store in Stamford CT. Not super convenient to the highway, but at least it had bathrooms and food. I'm looking forward to a hopefully near future where non-Tesla chargers can be found at highway rest areas though.
Massachusetts:
We had access to Level 2 (overnight) charging with the family using their outdoor 240V outlet and the mobile charger, but if we hadn't, there was also an EA fast charging station within 5 miles where we could have topped off.
Day 2:
~370 miles. Boston MA to Calais, ME. Charging stations are a lot fewer and further between, especially when you get north of Portland, ME. (Portland ME has EA's most northern charge station in Maine). When we stopped at the EA charger just south of Portland, we grabbed the last available stall (there were only 4). Another EV had to wait ~10 minutes for another space to open up. I expect this will become a more frequent problem the next few years, until charging infrastructure catches up with the influx of non-Tesla EVs. We also used the 50 kW Chargepoint charger in Gardiner ME for good measure, just to have wiggle room.
Calais ME:
We charged overnight at a level 2 destination charger at the International Motel. The Motel owner was a really nice guy - on our way back, we called ahead to ask if there was some way to make sure the parking spots in front of the charger were open when we checked in (they aren't well marked, so it's easy for any ICE driver to park there and block it by mistake). The owner parked his car there so the spot would be "reserved" for us.
If that charger hadn't worked, there was a 50 kW charger across the border in St. Stephen. When planning though, this was the area where I was feeling the most range anxiety - what if the motel charger was broken and the 50 kW was broken too? Unlikely, but not impossible. This risk/ anxiety will be alleviated as charging infrastructure gets better though.
Day 3:
~250 miles. Calais, ME to Prince Edward Island. We didn't charge, just stopped once to switch driving & toddler-minding duties. We spotted a charger where we happened to stop, and tried to opportunity charge since no one else was there. However, the Flo fast charger required a Flo card that we would have had to sign up for and get in the mail ahead of time (what?? nonsense!). Apparently this system is being phased out, and soon you'll be able to use an app to use all Flo fast chargers, but as of August 2022 you can still find special-club-card-only Flo fast chargers.
I hope in the near future all chargers will just take a credit card. The app situation is silly, and is a huge negative for older, less tech savvy EV owners. Or younger ones who just don't want another app on their phone. Or someone driving in another country without a data plan on their phone.

Prince Edward Island:
We just Level 1 "trickle" charged at our destination (a family house), adding about 3 miles of range per hour that we were plugged in. We drove a small amount while there, but were able to fully recharge within 5 days. If we had been driving more on the Island, we would have stopped by one of a few fast chargers available in Charlottetown.
The way home:
We retraced our steps on the way back - Day 1, PEI to Calais, ME, charged overnight at the International Motel, Day 2 Calais ME to Massachusetts, charged once at the Gardiner, ME Chargepoint (though, ugh, the 150 kw chargers there require an app! The 50 kW chargers do not though). Spent a few days in MA, recharged on the family's outlet with the mobile charger. Day 3, drove Massachusetts to DC, stopped to charge 2x but for shorter intervals, once before and once after NYC, both at EA locations.
Met another Mach E on Day 3, a brand new grabber blue GT! I thought, for sure this person must know a lot about the car to have invested in the GT… but oddly, no! It was just a quick decision for them when replacing an older car that had broken down. It's really shocking how little information dealers give first time EV buyers. Though I suppose most dealers don't know much themselves either… which leads to my extra section down here, answering some of the most common topics we covered while chatting with EV novices at charging stations…
New to EVs? Here's some quick info for reference:
ABRP
- A Better Route Planner - App and website for road trip planning. Way better than the built in Ford app. Will recommend which chargers to use, and for how long to charge.
PlugShare
- App / website that can also be used for road trip planning, but I like to use it to check for charger outages and leave reviews of chargers.
Why mention the weather / temperature?
Batteries work most efficiently at certain temperature ranges. If the battery is cold or hot, the car will spend energy either warming or cooling the battery to its happy temperature. This means less range. Also, your increased climate control usage (either heat or cooling, but with the current Mach E, heating more so) will also use more energy and decrease range.
There are different kinds of chargers?
Yup! The big difference is how quickly they charge your car.
Level 3 chargers - "Fast chargers". These can be anywhere from 50 - 350 kwh chargers. Keep in mind that your Mach E (as of 2022) can charge at max on 150 Kw, so if you have the option, use a 150 kwH charger and leave a 350 kwH charger open for a different car that can use the speed.​
​
Level 2 chargers - Chargers that can typically take your car from almost "empty" to full battery in 10 - 14 hours. I like to think of them as "overnight" chargers. Can be an installed location charger, or plugging your provided charge cord into a 4 prong outlet (like you'd find for a dryer).​
​
Level 1 chargers - Plugging in to a regular wall outlet. Takes ~2-3 days to recharge your car from "empty" to "full".​
​
Tesla chargers - Currently only usable by Tesla cars. (There are third party gadgets, like TeslaTap, to let you use a Level 2 Tesla destination charger). You will see many Tesla chargers in far nicer and more convenient places than the places you end up charging. Maybe someday we'll have nice things too.​
​
ChaDeMo chargers - These have different plugs that won't fit your car, only old versions of the Nissan Leaf, I think.​