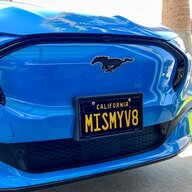 First Name

Patrick
Joined

Mar 8, 2021
Messages
Reaction score

196
Location
Vehicles

Ford Mach-E4x, Fusion Hybrid Plug-in, Ford Raptor
Occupation

Computer Nerd

My wife and I took our Mach-E from Santa Maria, CA to San Antonio, TX and back last week and for the most part the drive was OK (boring) but OK. The Mach-E performed great without any issues even in 121° heat. Our only real issues was with Electrify America charge stations and that was a real disappointment. Up until our trip we really had no charging issues. The app and charging stations always worked for us. Not on this trip...
We left our home with a full charge and the Mach-E odometer showing 6200 miles. I did a quick 80% charge in Los Angeles while we had breakfast at Philippe's (great start for the trip!!!). After a stop in Palm Springs we did another quick 80% charge in Indio, CA and took off for what will be our end point for the day... Deming, NM...
Here's what did on Day One with Electrify America...
LA, CA - 6362 (162 miles) - 36kWh QC (quick charge) from 44% to 83% - CCS 150 - 36 min
Indio, CA - 6489 (127 miles) 17kWh QC from 41% to 61% - CCS 350 - 9 min
Quartzsite, AZ 6606 (117 miles) 48kWH QC from 7% to 59% - CCS 150 - 39 min
Buckeye, AZ 6704 (98 miles) 4kWh from 41% on a charger that would not go above 39.11kWh - CCS 350 then 30kWh to 56% - CCS 150. We gave up on the QC. - 26 min
Chandler, AZ 6750 (46 miles) 40kWh QC from 37% to 80% - CCS 150 - 34 min
Benson, AZ 6890 (140 miles) 54kWh QC from 21% to 80% - CCS 350 - 33 min
We attempted to a very QC in Lordsburg, NM (109 miles from Benson, AZ) but none of the chargers would activate by app or CC. We had 57 miles to Deming, NM and the GOM was showing 80 miles so we gave up and headed for our hotel. It was late and dark so I slowed down to 70MPH and we arrived with 10% battery remaining.
Day 1 - 690 Miles
115 mile average between charging stations
37.50kWh average per charge
$74.84 total cost with a $.33 average
I wish I could stay Day Two started off great but it didn't. The 4 Electrify America chargers in Deming, NM would not respond to the app or by using a credit card and/or they would charge very slowly... my first attempt to do a QC was at 5:36 AM and I finally got a 80% charge by 6:46 AM.
Deming, NM - 7064 (174 miles) 16kWh, 14kWh, 9kWh, 22kWh SLOW charge from 10% to finally get 80% - CCS 150/350 - 70 min
El Paso, TX - 7174 (110 miles) 44kWh QC from 36% to 83% - CCS 150 - 39 min
Van Horn, TX - 7284 (110 miles) 32kWh QC from 35% to 70% - CCS 150 - 17 min
Fort Stockton, TX - 7399 (115 miles) 12kWh QC from 10% to 24% then just it just stopped - CCS 150 54kWh QC to 82% on a CCS 350 - 58 min (we also ate lunch)
It was also this location where Billy-Ray-Jo-Jo-Bob ICE'd 2 chargers with his rusted out Chevy
Ozona, TX - 7505 (106 miles) 48kWh QC from 30% to 82% - CCS 350 - 36 min
Junction, TX - 7596 (91 miles) 21kWh QC - EA app would not work I used my credit card.
San Antonio, TX 7707 (111 miles) 59kWh QC from 15% to 80% - CCS 150 - 38 min
Day 2 - 643 miles
117 mile average between charging stations
48.71kWh average per charge
$65.04 total cost with a $.19 average
Going east out of El Paso, TX on Interstate 10 was very fast. I was doing 85MPH+ pretty much the whole way in to San Antonio... The Mach-E was limited to 113MPH...
The temperature was in the 105° range most of the day and we had very quick thunderstorm near Junction, TX.
With Day 3 and 4 we were in the San Antonio area. On Day 3 I did go to a ChargePoint slow charger while we had breakfast and added 7.54kWH. We did drive a little over 200 miles in the San Antonio area from my sister's house in Selma, TX to Lackland Air Force Base where our son graduated from BMT.
On Friday I left the Mach-E at EA for a 100% charge at the *ONLY* EA charger in the San Antonio area for our trip back home on Saturday... 7917 miles - 14% to 100% - 80kWh - 2 hours 40 min
With a early start on Day 5 we took off from a cool and cloudy San Antonio with 92% with Deming, NM being our stop for the day.
Junction, TX - 8051 for 34kWh QC from 44% to 81% - CCS 350 - 25 min
Ozona, TX - 8142 (91 miles) 43kWh QC to 80% - CCS 150 - 28 min
Fort Stockton, TX 8250 (108 miles) charging issues again... 13kWh from 26% to 42% - CCS 50/150 - 22 min
Van Horn, TX 8365 (115 miles) 46kWH from 30% to 80% - CCS 350 - 31 min
El Paso, TX 8475 (110 miles) - NIGHTMARE! Some fat lady in a Select Mach-E was parked across 3 chargers because she didn't waddle very far from her car apparently. All she had to do was back in but that was too hard and of course she was nasty about stopping the charge to move her Mach-E. I could only park at a CCS 350 that would not respond to the app or CC. The fat lady finally drove off after doing a slow 67% charge and I was able to use my CC to finally do 46kWH QC from 48% to 80% - 45 min
Deming, NM - 8584 (109 miles) 63kWh QC from 25% to 93% on the very same CCS 150 that would not work 3 days before... 90 min
Day 5 - 667 miles
111 mile average between charging stations
33.33kWh average per charge
$46.73 total cost with a $.28 average
Because of the charging issues going home we pretty much decided to go to 80% no matter what so we have some reserve if EA chargers are not working. EA was the only choice for fast charging or any charging so it was better to spend more time charging for that extra range.
The bugs really like the Mach-E!
We took off at 6AM on Day Six from Deming, NM hoping for a good day wihout charging issues. It's gonna be a very *HOT* day that is for sure!
Benson, AZ - 8757 (173 miles) 57kWh QC from 20% to 83% - CC 150 while we had breakfast - 52 min
Tempe, AZ - AZ Mills Mall Nightmare! I was at 34% looking at broken EA chargers. EA app not activating. CC not working.
Glendale, AZ - 4 EA chargers with 2 not working at all. EA App not activating. CC not working. 1 charger being used by a Bolt charging very slowly.
It was 109° and I have no idea if the heat is playing a role here with the charging.
Buckeye, AZ - 8951 (194 miles) 52kWh QC from 25% to 81% - CCS 350 - power on with the A/C running full blast - 111° - 34 min
Right after the charge in the same shopping center we get a cold drink. It's now 114° and the Mach-E is giving a warning about the extreme heat and that I should plug in the car ASAP. We drop from 81% to 80% with the power on and A/C on full blast over a 7 minute period.
Quartzsite, AZ - 9050 (99 miles) 39kWh QC from 39% to 81% - CC 150 - EA app still acting up but did finally activate a charger and there was no charge! - 36 min
Most of the drive in to CA was at 111° to 115°!
Indio, CA - 4 EA chargers. 2 are not working. 1 will not respond to the app or CC. 1 is slow charging another Bolt!
Palm Desert, CA - 9173 (123 miles) 60kWh QC to 87% - CCS 150 - EA app would not activate a charger I used my CC - 79 minutes (went over a little doing some work on the laptop)
Heat could have been an issue... it was 117° in Indio. Shot up to 121° heading over towards Palm Desert and while I did the charge with the power and A/C it was a steady 118°!
Camarillo, CA - 9348 (175 miles) 53kWh to 80% - CC 150 - EA app would not activate the charger I used my CC - 32 min
Day 4 - 764 miles
153 mile average between charging stations
52.20kWh average per charge
$85.66 total cost with a $.31 average
We had hoped to be home around 9:30PM on 09/12/21 but with the charging issues and a late unplanned dinner to ease the charging frustration we didn't get home until 1:15AM!!!!
3265 miles with a 2.7 mi/kWh average overall.
Going to San Antonio it went up in elevation and we did fight some strong headwinds. Going home from San Antonio we dropped in elevation and had tailwinds so we did see an increase in range.
We thought the spacing out of EA chargers was good at first but with a 115 mile average between chargers that means you are stopping every 115 miles to charge. With an 80% QC you are lucky to get 210 miles of range and with the speed limit being 75-80MPH there is no way you can do up to 230 miles to skip a charger. If EA had chargers every 50 to 75 miles we could better use the extended range of the Mach-E and limit our charging times. It would also help out with the times we had issues with the EA chargers.
My wife and I are on the fence with future long distance travel in the Mach-E. Going to LA or the Bay Area and even Las Vegas would be no problem. But on long trips like we did where we spent 4 days driving out of 6 days we will probably take a different car.
Stopping every 115 miles for up to 40 minutes was hard on us. We can easily do 400 miles without stopping. Plus we lost the ability to be spontaneous and go off the planned route for sightseeing...
As for the Mach-E.... it performed great. The seats were comfortable over the long trip and the A/C kept the car cool in extreme temps. The A/C also cooled the car very quickly. I do believe the charging issues were on the EA side, not the Mach-E so we don't fault it for the charging issues. Sorry for not taking more pictures... it's not like we didn't have time while charging. Then again this is all we saw while charging...
One final rant about our trip. I HATE Wal*Mart. Most of the EA charging stations were at Wal*Mart's and I was at more Wal*Mart's over 4 days than I have been to over the past 2 years!!! Pretty much each time we stopped to charge at Wal*Mart we went inside for this or that. That was worse than the charging issues!!!
Last edited: