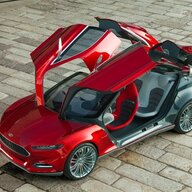 Joined

Jul 13, 2020
Messages
Reaction score

12,034
Location
Vehicles

Lincoln mkx , Ford f-150

"and that's why he is now living in his Mach-E"
I recommend for day-to-day use that everyone ignore the "Range" number. It doesn't matter unless you're driving 100+ miles, which statistically, you're not.

You're not going to see "400 mile (minimum)" vehicles at Mach-E's price (or lower), you're going to see the price decline for 200 and 300 mile EVs instead, and more and faster chargers. Nobody needs a 400mi range 99% of their life, so nobody will pay to carry it around.

Don't look at FordPass, use ABRP. FordPass' route planner does indeed suck.
The quicker the charging gets and the more of them there are. Also the better the tech is where the weather plays less apart. The yes he is right. the range will go down overall. That also will help with the total cost.