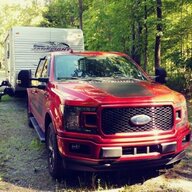 Joined

Nov 15, 2020
Messages
Reaction score

579
Location
Vehicles

F150 XLT Special Edition
Occupation

Busy!

People who buy a Tesla because it's a Tesla and because "the only good electric car exist in their mind is a Tesla" don't know much about cars or aren't cars enthusiats! I call them sheeps, follows herd.

A guy on my street has a Tesla, was talking to him last winter, asking some questions. He had no idea that the paint chipping behind the front wheel was not normal, wasn't aware that the underliner picks up road crap and winter sand/stone like a payloader in a quarry... Why? Because he bought a name not a car, he never looked at reviews before buying it. He blinded just said Tesla makes me different/trendy!


Yes Tesla had good batteries/range/motors but when you pay that amount of money for a car you expect it to be built with quality... Something that Tesla cannot stand behind, even more so their after sale service is well almost non existent!

Yes I considered a Tesla a while back but quickly looked elsewhere. And yes the MME is a new type of Mustang... Is it a Mustang, I don't care, the car looks nice, seems fun to drive and had a built quality that Tesla is years from achieving.

And in 2-3 years people will have even more choice in the BEV market, choices that will compete with Tesla.

I won't take away anything from Elon, he brought the car industry into the electric age... It needed an outsider like him to do it, now others have started to follow his tracks


Anyways just my personal opinion and views, you may or may not share... It's all fine, we are humans after all....