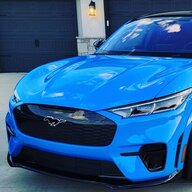 First Name

Ben
Joined

Nov 12, 2020
Messages
Reaction score

635
Location
Vehicles

2021 Mustang Mach-E First Edition

The OBDII port on all modern cars is the port used to access the car's CPU. All data is pushed out of that port on how the car is behaving. It's usually used for dealers to run diagnostics or update things with the car but fancy programmers have figured out a way to create a Bluetooth enabled dongle that fits in that slot under the dash and pipe the raw data to an app on your phone or tablet. Depending on how far they can reverse engineer the codes, the more information they can get from the car itself. In some cases, you can even gain access codes to make small changes to the car. For instance on my VW, I was able to change how my car responds when I unlock it, or map the all windows down function to holding down the unlock on my key fob. Most of the time tough, people use it for real time data logs on how the car is performing
If ford sticks to anything like they have been doing for several years, you can edit all kinds of stuff about the vehicle. When I get a different car, the first thing I do is connect to it and disable the Horn honk if you leave the car with it running, make the tap of the turn signal to do 5 blinks instead of 3. I've turned up the temp on my heated steering wheel, added extra features in the radio.
I've actually updated the firmware on a module on my vehicle with it instead of taking it to a dealer.
Hoping that the Mach-E will be similar. It may just take a while to figure out which values are for what function though.
There's always the chance that this completely new platform will be completely different programming wise too though.