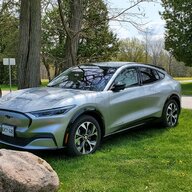 First Name

Joe
Joined

Feb 26, 2021
Threads
Messages
Reaction score

749
Location
Vehicles

Mustang Mach-E Premium AWD Extended Range Battery

Today was -22 in Toronto, Canada and I just wanted to share a few observations about the coolant/heat loop for cabin heating as well as battery temp maintenance.

First off when charging the vehicle at a DC Fast Charger when cold the Mach-E will either heat the pack, or heat the cabin, but NOT both.

Essentially if cabin heat is turned off and you start to DC Fast charge you will hear the Mach-E turn on the coolant/heating loop for the battery pack, it sounds like a slight hum along with the occasional gurgling sound. If you watch the coolant heat energy consumption with car scanner or something similar you can see that it will start using about 6KW to heat the fluid going to the battery, and the battery temp will slowly start to go up.

The second you turn on cabin heat, you can hear the coolant loop to the battery shut down, and whatever heat is generated by the PTC heater is used exclusively for heating the cabin. If you sit long enough and watch the HVB battery temp, you can see it slowly start to drop.

In BOTH cases at a 50KW charger i watched the charger charge at around 30KW. If I was on a much higher powered charger I suppose I could sit there and wait 30 min with cabin heat off so that the battery temp can get warm enough to start ramping up the speed of the charger, however doing so would essentially mean freezing inside the car.

I decided to try this for a while and prioritize heating of the battery for a while just to observe the behavior further, and by the time the pack got warm enough to exceed 30KW I had hit the 80% cliff. But I decided to let it prioritize battery heating, and i sat even longer with cabin heat off. Eventually I noticed that the power being drawn from the charger was only slightly higher than the power being drawn from the PTC heater, and the charge rate of the high voltage battery had pretty much stalled out. The overall charge rate was about 7KW while the PTC heater was drawing about 6KW, which meant the pack was receiving about 1KW or less on a high powered DC Charger???

The interesting thing was that by turning on the cabin heat, i saw that the car had immediately started requesting more power from the charger about 12KW, and I immediately noticed the charge rate on the HVB start to climb with PTC heater receiving about 4KW - 6KW, while the pack received the rest 6KW - 8KW. Which completely surprised me because this is counter to what you would expect to actually see, since the whole reason for freezing to death in the cabin is to allow the heating loop to warm the pack, and the reason for wanting to warn the pack is to get a faster state of charge. With that said, it seems the vehicle charging algorithm was not smart enough to know to request max power at the cliff (12kw) and instead ramped down power until battery heating power consumption and requested power were almost identical, which means the charge algorithm was treating a DC Fast charge session as if it were plugged into AC and just maintaining pack temperature while not really charging at all!

When you think about it, that logic is beyond absurd, and I could have been sitting at a DC Charger all day long and not really increased charge rate much beyond 90% which is insane! For thus experiment I purposely chose a free charger, otherwise this would have been an insanely expensive charge session that was essentially just keeping my battery warm!

Now I know there is an update that changes the charge curve after 80%, but I'm wondering if anyone who has it and also lives in cold weather can confirm if it improves the charge rate when cabin heat is off, and you are sitting in the cold passed 90%?

In any case Ford has allot of work to do here, primarily in sharing that coolant loop (if it is physically possible), hopefully it is because with only one PTC heat source it sounds pretty absurd to make the customer chose between freezing, or heating a pack. When you also consider that it takes aproximately 20 - 30 min to make an appreciable difference in pack temperature when in really cold weather, and the Mach-E is not smart enough (yet) to start preconditioning and warming the pack ahead of time when setting a charger as the GPS destination, then it really leaves allot to be desired, and is an incredibly inefficient use of resources with a tremendous amount of plugged in charge time used just trying to get up to ideal temperatures. When you consider that most people would not sit around longer than 30 min anyway, then the heating strategy seems like a completely moot point, and very poorly executed from a Software and hardware engineering perspective.

What are your thoughts and observations?