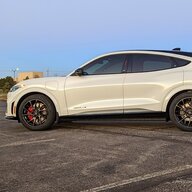 First Name

Greg
Joined

Jul 2, 2021
Threads
Messages
Reaction score

1,745
Location
Vehicles

'21 MME-GT Star White; '18 BMW M40i
Occupation

Sr Solution Engineer; IT Product Owner; Architect; Developer

Bump.
I coated with two coats (mostly due to time, would have preferred to do 3).
I picked up my GT still in wrappings. Not yet washed from the dealership. Ford puts on some sort of sealant on the paint for the trip from Mexico. The paint needed to be stripped.
Process:
Wheels: MAGnificent, washed with wash mit to avoid scratching the aero covers, used wheel brush for barrels, brush for tires.
Wash with Foam Cannon and Finish Kare 118SC and MF covered sponge.
Second wash with Foam Cannon and mix of FK 118SC and Einszett W99 to help break down the coating on the paint
Decon with Mothers Speed Clay 2.0
Light paint correction with M205 on Bauer DA Polisher and Bauer Yellow Pad (Paint and glass)
Wheels and small black trim polished with Porter Cable and 3" Lake Country Orange Pads using M205
Wipedown with Mothers CMX Surface Prep
Ceramic: 1st coat Carpro UK 3.0, 2nd coat Carpro SiC. Wheels coated as well.
Tires: Finish Kare Top Kote 108 AS
Pictures: In the last shot, there was a big ol splattering of bird poop that landed right in the middle of the plastic grille and dried yesterday. I drove in the rain this morning...this is the result.
Nothing sticks. If that water beads any tighter it will jump right off the paint.