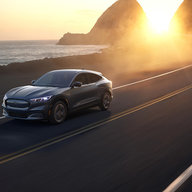 First Name

Claude
Joined

Mar 28, 2020
Messages
Reaction score

182
Location
First Name

Claude
Vehicles

Mustang Mach 3- Tempo- Malibu(3)-Actual Kia Sportage AWD
Occupation

Retired

Well the short answer is not necessarily but the right answer is it's probably a good idea. Like many of you the Mustang Mach-E will be my first EV, but my second ordered EV. I've been interested in EV's since late 2018 and in August 2019 I did ordered a Kia Niro EV, not yet arrive at this time, and in January 2020 I did place a reservation for a MME Premium SR AWD, because I wanted the AWD option and the MME OTA updates.
In the meantime I have read a lot about EV charging at home (level 1 or 2) and on the road (level 3), watched a lot of YouTube videos also. So here are some reflections I made that I'd like to share with you so you might use it has a guideline. Of course my thoughts are for a Premium SR AWD.
Before choosing a home charger it's important to know your daily commute needs. I have base mine on a 40mi/65km. Second it's important to know the reminding net capacity of your electrical panel before even starting a DIY installation project, has this will be your guideline for installing a 40A, 50A or 60A circuit. It is important to know to not overload the panel and only a qualified electrician can evaluate that. Let's say here we are not suppose to draw more than 80% of the circuit value or charge capacity, meaning that for a 32A/h charger you will need a 40A circuit, 40A/h charger a 50A circuit and a 48A/h charger a 60A circuit.
The MME comes with a 120 V/240V probably a 12A/h-32A/h portable charger (Level 1 and 2). Let's calculate charging time a little bit. Of course car manufacturers always give you the empty to full figures, but this will probably never happen unless you come home behind a towing. For example with the 120V 12A/h supplied charger it will take roughly 53 hours which you calculate as follow 120V X 12A/h= 1.44 kW/h and 75.7 kW/h /1.44 kW/h = 53 hours. In the EU because it is 240V that time would be cut in half. Not good. But let's see for my average 40mi/65km which is
only 19%
of the battery capacity of 210mi/335km or 14.4 kW/h of a 75.7 kW/h battery. With the same formula we then have a 14.4 kW/h / 1.44 kW/h= 10 hours so overnight charging would be sufficient for many people's daily commute only with a 12A/h charger. Now for the 32A/h it will give us a 7.68 kW/h capable charger which for that 19% daily usage will require 14.4kW/h / 7.68kW/h= less than 2 hours. Better if you have a reduced electric tariff outside peak hours. And don't forget EV batteries are happy charging at a slow pace.
Based on these numbers should you install a 40A circuit to use the 32A/h portable charger supplied with the MME? Well just let's say that this charger might be expensive to replace if need be, has some Nissan Leaf owners have find out. Now if your charger is installed inside a
garage and don't have to deal with the elements you will only have a Nema 14-50 plug on a 40A circuit to install. Personally I will get a 32A/h wall charger with the Nema 4X weatherproof rating. This is the highest exterior rating because not only is it waterproof but also humidity proof. I will then keep the MME portable charger in the car, has a spare tire kind of, and use it on family visit far from home or Nema 14-50 available chargers on the road if needed. It's important to say also that installing a Nema 14-50 plug for a wall charger, your MME portable charger can be used as a spare if your wall charger needs repair.
So my final exterior installation will have a 50A circuit, (future proofing) the maximum for a Nema 14-50 plug, I will get the Global Industries EV One 32A/h variable current output charger (can be set between 8A to 32A on the 32A model, as we don't know at this time if the MME will have the capacity to select variable input current like in the Tesla's, with a Nema 14-50 plug and Nema 4X weatherproof rating and a 5 year warranty, operating temperature between -40F and 104F/-40C and 40C. An app is also available as an option, but we will have access to everything needed for charging from the FordPass app already. It is available in Canada at the
https://roulezelectrique.com/
boutique (they have video on their french site but it's worth watching) or for the US I believe directly from the manufacturer at
https://www.global.industries/product/ev-one/
. It is also important to note that for cold regions it is important that the charging cable remain flexible at very cold temperature like -22F/-30C.
Finally I would invite the MME community to have a look at the Mach Dad YouTube channel, and become a subscriber. I did found some more info on the MME mobile charger at
https://electrek.co/2019/11/18/ford-mustang-mach-e-home-charging-on-par-with-tesla/
but I decided not to correct my post, please read this article. Also here's a few link's to the charger I am talking about and some video demonstration about winter flexibility of charging cable.
you don't want that at only 15.8F/-9C
at -4F/-20C
ça va bien aller means things will go well is what we see these days everywhere including's people's windows.