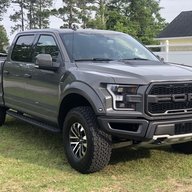 First Name

Mark
Joined

Feb 13, 2020
Messages
Reaction score

338
Location
Vehicles

Tesla Model 3 AWD(OLD), Ford Raptor
Occupation

Manufacturing

With the release of the F150 Lightning, I felt it was necessary to point out some interesting thoughts that come to mind when looking into the new truck from a F150 owner:
Price is exactly where it needs to be - 39k up to 90k gives the buyer plenty of choices for entry.

I paid 70K for my raptor, most people pay 45-55k for a 1/2 ton truck. Should give every buyer some nice choices.

Range is not estimated to be disappointingly low. In the base model, 230 miles is low. However, for most folks like myself I never drive more than 50 miles in a day. That is plenty with 240V home charging.

Ford may be playing very cautions on the range, and with the assumption that the battery pack is double in size we should be able to easily achieve better range with slower speeds or without towing long distances.
With 600 mile range in my Raptor, I would certainly be limiting myself if I decided to go on a long road trip in the F150 Lightning. Not too worried about that though - an EV is just not really meant for road trips especially towing.

Styling is exactly where it needs to be. Not too futuristic, not too old school. Keeps the traditional utility of a truck while turning it into an EV. Nice.
When I look at this truck, I think about the practicality in my own life. What if I could cut out going to the gas station? What If I could still tow my boat 40 miles to the lake every weekend to go fishing? What if I could continue to use my truck like I was before, while lowering my operating cost considerably every month? What if I could power my house with my vehicle for 3+ days, saving me $10,000 for a whole home generator?
These are questions a lot of folks will ask themselves. I think Ford did a good job on paper, and if the truck performs and sells itself on the Test drive you know the truck will easily be a home run. Every Ford dealership will have one of these for folks to check out and the questions that pop into my mind will certainly pop into theirs once they start pushing sales on these units.
Good job Ford.