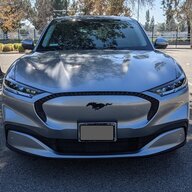 Joined

Jul 7, 2020
Messages
Reaction score

135
Location
Vehicles

Mach e, Tesla M3, 4Runner

02/08 EDIT - Add trunk picture with groceries, Add info re Charging and Electrify America (tech and misc section)
EV Experience:
2013 Ford Focus EV - Used as daily driver for 3 years
2019 Tesla Model 3 Standard Range Plus RWD - Current daily driver (for now )
My Ford Mach-E
Reserved on- 03/03/2020
Order Finalized - 07/07/2020
Delivered to Dealer - 02/03/2021
Purchase Finalized and vehicle pickup - 02/07/2021
Purchase/Lease: Ford Options 48 Month Lease @ 10500miles with $2000 down $664/month (Including $2500 Options Rebate and CA CRV Rebate $1500)
Vehicle Trim/Spec:

Mustang Mach-E 2021 Select RWD
Ext-Iconic Silver Metallic | Int-BLK Onyx ActiveX Seats
+Comford/Technology Package ($2600)
Total Dealer Sticker Price $46, 595
My thoughts on EV, Range anxiety, Charging, Tesla vs Ford etc:
I drove a 60-70mile range ford focus EV for 3 years as my daily driver and I've had my share of "0% battery - stop" moments. But I've never been stuck to a point I had to call roadside assistance. Charged at home using a 110v regular charger. But yes, I had a gas car that I drove when I needed to go on longer trips.
I've been driving Tesla M3 for about an year and a big fan of all things Tesla (also have Tesla Solar). I love all the software upgrades/changes they routinely do and I think this one of the biggest reasons Tesla is leading the way. I believe Tesla is more of a Tech company, trying to make vehicles.
Why I bought Mach-e: I didn't need to buy another vehicle. Also - Ford is not in my Top 5 vehicle manufacturers. But I think Ford has the experience and could make a better car than Tesla. I also usually don't buy brand new vehicles - as they loose value right after. But looking at the price tag, all the rebates being offered - It doesn't look like I'd be loosing a lot of money. Additionally, I plan to rent out this vehicle on a car sharing/rental platform > converting this more to a investment than an expense. If it wasn't for the rental idea - I would've NOT bought it.
First impressions comparing it to Tesla M3:
Driving:

Drive seems more firm/controlled than M3. I think I enjoy it more than on my Tesla M3. This could also be due to the ride height.
Propulsion Noises - I LOVE this. In-fact, I've researched about after market upgrades that can be done on Tesla that could add this feature. I miss hearing the engine rev noises and the response you receive as you accelerate. So YES - I love it and hopefully Tesla considers this in the future.
One pedal driving - this seems very similar to Tesla and other vehicles, don't see a big difference.
EV acceleration/torque: For some reason, Torque seems much stronger on the M3 and not so much on Mach-e. Even on my Focus EV, the torque was more powerful, but it was a very light vehicle.
One thing I didn't like about my Focus EV is the fact that it was a lighter vehicle and felt like driving a toy car. Acceleration and handling felt a bit 'out of control'. But on the Mach-e : I think they did a very good job in fine tuning the driving experience and I'm sure the weight and center of gravity helps this a lot.
From a few hours of driving - I think I'm starting to prefer the Mach-e Driving experience over Model 3.

Tech and Misc.

Compared to Tesla M3 - I definitely love having a instrument cluster in front of you. Not a big fan of having to look to the side for all the controls.
On Mach e - Most of the standard vehicle controls are traditional button, levers. I love this. From a design and the looks point of view, I do like the minimalist look on the Tesla - but it came in the cost of functionality/practicality. For ex: Vipers, Headlight controls, Home link buttons, Signal levers etc - I like the traditional controls.
Settings/Options - If Tesla has 30 Settings to setup, I believe Mach-e has 3000 setting options to choose in the center control/infotainment Sync 4 system. As a Tech enthusiast, I like being able to control everything and seeing this many options. However, it feels a bit overwhelming and I think it will take a bit to get used. I could see most drivers not liking it. May be they can introduce a "easy/minimalist" environment with default basic settings and then an Advanced mode for those who choose.
Setting up the Ford Pass app is pretty straight forward - but I think Tesla wins in this category. It does take some effort to link the vehicle, then link your phone and setting up the phone as key - process on Tesla was much smoother. However, it seems like the Ford Pass app shows more details than the Tesla.
*** On the Tesla you have to choose between showing Battery level as a percentage or remaining miles (but not both.) On FORD,
Charging Network - This is an area that Tesla is dominating at the moment. With the overall process of charging (stop>plug>charge>unplug>go) and the availability of Charging stations. Ford and other manufacturers are try to implement a similar process, but it is difficult as they rely on public charging stations open to all.
ELECTRIFY AMERICA - With your Mach-E purchase (from what I see in my account), you get complimentary membership to Electrify America for 2 years with 250kWh charging bundle. That approximately translates to about 3-5 Charging sessions.
More than happy to answer any questions from forum members. And if you are around LA or planning to visit LA, feel free to reach out to me if you would like to rent it for a few days.
Last edited: