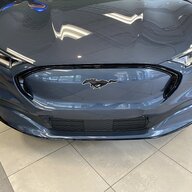 Joined

Jun 24, 2020
Messages
Reaction score

3,026
Location
Vehicles

2018 Mitsubishi Outlander PHEV GT

I just got back from the Mach-E Road Show in Vermont. Here are some observations in no particular order:
- They had an Infinite Blue and a Rapid Red. Both were Premium, AWD, Extended Range manufactured in July.
- Both colors looked great. I have an Infinite Blue on order, so I spent most of the time with that one
- Fit and finish were fantastic. The Active-X material is indistinquishable from leather. It is soft on the steering wheel though, so wil likely scratch.
- Standing next to the Mach-E, it doesn't seem tall enough to be considered an SUV
- The driver's seat was very comfortable. The seats are squishy, which I like. Some may find they don't offer enough support if you're expecting side bolstering
- The seat moved up and down about 2". It was very easy to get in and out of. Similar seat height to my Outlander PHEV.
- There is adjustable lumbar support, but it only adjusts in and out, not up and down.
- The back seat outboard postions were very comfortable. The middle seat is cramped (but I'm a big guy)
- Rear visability seemed similar to any other crossover I've driven. Not fantastic, but not bad.
- All the map lights and lights in the trunk and frunk are LEDs. No incandescents to be found
- The Ford guys said that the frunk organizer is pre-production only, and won't be in the final version. I don't buy that based on what we've heard elsewhere.
- The charging door swings wide open with decent force when you push on it if you don't have your hand there to stop it. I hope that's just a pre-production thing.
- The little hinged cover for the DCFC pins sticks closed with magnets. Nice touch.
- The Ford oval at the top of the windshield was there on both vehicles. The Ford guys seemed to think it would be there in production.
- The trunk opens much faster than any other vehicle I've owned.
- I knew the rear turn signal lights were animated, but didn't realize the fronts are too. Looks very cool.
- My iPhone 11 Pro and an iPhone 7 Plus each fit fine on the charging mat
- The windshield wiper blades don't attach with a typical J-hook style. They're like the Subaru ones that just slide on and have a button
- Everywhere that the car appears on the big screen, it's color matched to the actual car
I'm sure I'll think of a lot more. Let me know if anyone has any questions. Here's a silent walk-around video and a few pics.