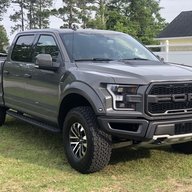 First Name

Mark
Joined

Feb 13, 2020
Messages
Reaction score

160
Location
First Name

Mark
Vehicles

Tesla Model 3 AWD(OLD), Ford Raptor
Occupation

Manufacturing

From Electrek.co

Ford's Mustang Mach-E reservations are moving along nicely, with the car's release coming at the end of this year. We learned today that, if reservation numbers are sequential (and they seem to be), the car now has approximately 41,400 reservations (globally) according to forum posts.

Also, according to Ford, there have been Mach-E reservations in all 50 US states so far.

Ford's reservation numbers seem to be sequential, though they didn't start at zero. The earliest reservers from the day of the reveal have numbers as low as ~4,000. It seems that the first 4,000 cars will be reserved internally for Ford's purposes (Ford corporate fleet, employee sales, etc.). They're also coming in from around the globe.

Those reservation numbers jumped up to the 20,000 range in the first week after the presentation, and have slowed down since then but are still plugging along. Two days ago the number was in the 41,000 range, and five days prior to that it was in the 40,000 range.

Extrapolating, it looks like we're still seeing about a thousand orders a week. If this continues to be the case, then Ford's first-year of production should be "sold out" within the next couple of months. The "first edition" model "sold out" within the first week.

In the first year, Ford plans to build 50,000 Mach-Es across all trim levels. But the American company plans to allocate around 60% of those first- cars to Europe. This is to help Ford meet EU emissions regulations, which are getting much stronger and most automakers are facing big fines if they don't push more EVs in Europe soon.

Ford also shared an animation showing reservation numbers across the US, along with the most popular color reserved in each state.