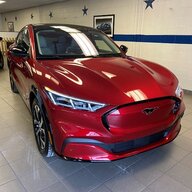 Joined

Dec 4, 2019
Messages
Reaction score

4,485
Location
Vehicles

2021 Mustang Mach-E Premium 4X, 2020 Explorer ST

Leaving tax credit aside, what is the practical difference between this and a standard lease?
Speaking for myself and not Ford, explaining this to you as I would to any friend:
There are subtle differences. The big picture is that Ford Options and a traditional lease are more similar than different.
Ford Options choices at the end of the contract term are:
1. Return – Transfer ownership of the vehicle to Ford Credit (like a lease turn-in, with mileage and excessive use charges)
2. Renew – Trade-in/Sell the vehicle, any accumulated equity may be available for use as down payment
3. Retain – Payoff or refinance the balloon note amount through Ford Credit (like buying out your lease by paying the agreed lease purchase price/residual value)
Differences:
Ford Options is a retail contract, so the title is in the customer name. For standard leases the title is in the lease company name. Because Ford Options are retail contracts instead of leases there may be differences in how the transactions are taxed depending on where you live (in the monthly payments vs. all upfront at time of sale) so consult your dealer.
Ford Options is available in most states, you'll need to discuss financing options with your dealer.