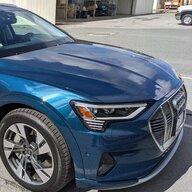 Joined

Dec 4, 2020
Threads
Messages
Reaction score

189
Location
Vehicles

2021 Audi e-tron

@jhalkias
@silverelan
@SteelMach
@timbop
@RX33
@Billyk24
I'm a bit late to the party here, but I can shed a little light on the e-tron's unusual charge curve. Audi uses a "conductive adhesive" to attach their battery cells to the battery cooling system. The result is better thermal flow from the battery into the liquid cooling loop, so they can keep the cells cool under higher sustained loads. As far as I have been able to tell, it is the only consumer BEV to do so. This is pretty shocking to me, since it's kind of like being the only computer company to put thermal paste on their CPUs. I have to assume that there is some big tradeoff (like replacing the battery being a giant pain in the ass), because thermal paste seems like a no-brainer to anyone who has spent time tinkering with computers.
The bad news is that it's a hardware difference, so other vehicles won't be able to turn on this functionality through software optimizations. The good news is that it doesn't seem to be anything proprietary, so a future MME battery pack (or even a very brave modder) should be able to implement the same solution.
As Billyk24 said, the warranty on the e-tron battery will replace it if it falls below 70% capacity in 8 years. Personally I'd like to see it a little higher, but I also assume that anyone willing to be on an EV fan forum is going to treat their car a bit better than the average user. I know that tons of DCFC and charging to 100% will harm my battery, so I'm going to avoid it when I can and see how long that will last. So far I've put 2200 miles on my e-tron and the range is actually going *up* as I get more familiar with it and better at optimizing my driving habits. (It could just be that the range is going up because the novelty is wearing off a bit and I'm not as prone to launching it off a green light.)
I also think that by the time the battery is below 70%, it will be worth replacing it with a brand new module with ~2027's battery technology regardless of warranty status. We're all paying the early adopter fee to bring BEVs into the mainstream, and I'll be excited to reap some of those dividends by the time our cars are middle-aged.