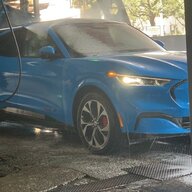 First Name

R
Joined

Dec 18, 2020
Messages
Reaction score

11
Location
Vehicles

Prius V

I live in the Bay Area, and I got my Grabber Blue FE a few months ago. It's been quite an adjustment to get used to all of the attention the Mach E gets. Last week, I was at a red light with three cars in front of me. The guy in the left turn lane, who had no cars in front of him, puts the car into reverse, backs all the way up to me and gestures for me to open my window, then asks me, "So, how do you like it?" Two days ago, I'm parked at the movie theater waiting to pick up my daughter. A man crosses the street and walks over, gestures for me to open my window and asks, "So how is it?". A couple months ago, we parked the car on Cannery Row in Monterey so we could eat lunch at a restaurant across the street, and I saw at least two groups of passersby stop walking and check out the car. I was driving down a random residential street one day, and these three 10 year-old boys all look up and one shouts, "We love your car!!". I've seen drivers in other cars taking videos on their phones of my Mach E. Every week, people stare at the car as I drive by, and I get many thumbs-ups from many of them.

My kids thinks all of this is hilarious, especially since we've only owned very low-key cars before this that got no attention from anyone. And although I've had the car since March, I have yet to see a single other Mach E on the streets. There are tons and tons of Teslas here in Silicon Valley, though.

Anyway, I just wanted to share my experience. As for the car itself, I love the drive and love the physical build quality. The app and interface have been a bit buggy, unfortunately. I get random alerts telling me I'm near a Peet's Coffee or a school when I'm not. The phone as a key was a bit unreliable, though less so after a software update from the dealer. Why can't we adjust the temperature remotely using the app, something that would make remote start a lot better? None of these is bad enough to outweigh all the great things about the car, though, and that's what I tell all these curious people asking me about the car. However, I must admit wondering that if Ford can't get the technology for the app and interface right, do I really trust them to make reliable self-driving/assisted-driving technology when they try to roll that out? I hope they get their act together, because I love the Mach E and would hate to see them screw up implementation of something as important as that.