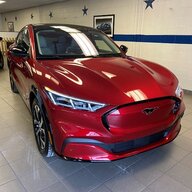 Joined

Dec 4, 2019
Messages
Reaction score

4,487
Location
Vehicles

2021 Mustang Mach-E Premium 4X, 2020 Explorer ST

When I arrived at the charging station I was down to 14% battery charge and had about 12 miles of range left. Once I started charging I was only getting 32kw per hour. Since the temps were cold, I calculated I would need to get to 65% or 130 miles to leave me a good buffer to make it home. This took a whopping 96 minutes to accomplish. Had the system provided the "up to" 150kw that it should have, I should have been back on the road within 30 minutes. The sticker on the charger at the station stated it could provide up to 350kw charging rate. I know this has been an ongoing issue with Electrify America with other EV's and users. So, if anyone has a trick to get the charging rates faster, I'm all ears.
This is about the same speed (~30 kW) I got at 2 different EA sites in Michigan @ 15 degrees F outside.
On a different day when the temp was a bit warmer but still just below freezing I got from 10% to 80% in 45 minutes. I drove the car hard for about 20 minutes, hard accelerations, hard full regen and cranked up the heater to yo-yo the battery energy to hopefully warm it up.
Hoping the OTA update comes soon to pre-condition the battery when a charger destination is set in the nav.