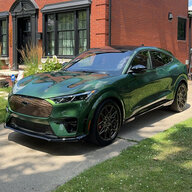 First Name

Joe
Joined

Jun 25, 2020
Messages
Reaction score

648
Location
Vehicles

2021 Mustang Mach-E First Edition in Grabber Blue
Occupation

IT Network Engineer

[UPDATED WITH Q&A AND MORE PHOTOS]
Here are the answers to all your questions (I think). I'm sorry if I missed a few. If you have any additional, I will try to respond and recall from memory. I'm glad you could all be a part of this ride in some way.
Callicles -
Q: Is the interior height provide enough room for tall drivers? What about legroom? I'm 6'5". Am I going to fit?
A: I'm 6'1". I fit just fine. It may start to feel a little cramped for someone of your height.
Rocky29670 -
Q: Is there no button to open the tailgate on the fob? Or no dedicated button within the cabin to pop the tailgate?
A: There is no physical button within the cabin to open the tailgate. You can open it from the driver's seat, but it is only accessible via the main screen within a menu.
agoldman (Alan) -
Q: Is the only way to "drive", phone recognition or the big key fob? Is there a credit card sized active card or anything smaller than the jumbo key fobs?
A: You can drive the vehicle with any of the following: Key FOB, PaaK (phone as a key), Door PIN/Screen PIN.
Q: For service or valet, do you have to give the fob only? I guess just a temp code.
A: Valet mode is PIN or FOB. No card like Model 3/Y. Apple CarKey support is unknown at this time.
Machemark -
Q: How is the fit and finish? Does it feel luxury at all, other than the Model Y/3 does it remind you of another car?
A: Fit and finish is very nice. It feels refined and ready for production. The attention to detail is awesome. It reminds me most of a Model 3/Y, but much more thoughtful and driver oriented, as well as a more sporty & aggressive design. I wish I had something else to compare it to, but really, nothing else exists!
Firefighter (Gary) -
Q: Is there going to be a receptacle to plug in a maintenance charger to the 12-volt battery or is there easy access to the 12-volt battery? -
A: The terminals are easily accessible.
Prius2pony (Jeff) -
Q: Please report on the color. I'm curious how *metallic* the paint is on infinite blue & grabber blue- if either of those end up being your ride. -
A: The "Grabber Blue" had a slight metallic tinge to it. It's hard to describe, you have to see it in-person. But it is beautiful and turned EVERY SINGLE HEAD. I got a kick out of watching everyone's reactions on the road.
JellyBelly (Kris) / Mach-E VLOG (Patrick) similar questions -
Q: Wondering how noisy or quiet is the car? -
A: VERY quiet. With all artificial sounds turned off, it was no louder than a Tesla. It was well insulated. As for the artificial sound, it changes with every drive mode, "Unbridled" being the most noticeable. The artificial sound can be turned off completely, regardless of drive mode. Though, there is a low speed sound that the car makes, which isn't terribly loud.
Q: Sync lag [also asked by ChasingCoral (Mark)] -
A: No lag. VERY snappy. I was incredibly worried about this and I finally slept soundly knowing that it is a well refined system. I never thought another manufacturer would be able to get on the level of Tesla's infotainment. But Ford knocked this out of the park. To top it off, it was well laid out and beautiful to look at. Pretty and functional. It clearly has a good processor, RAM, and GPU backing up the HTML5-built system. I'm confident in saying that you will be impressed. The knob doesn't feel out of place, either.
Q: Rear view visibility [also asked by agoldman (Alan) and ChasingCoral (Mark)] -
A: It wasn't great, I'll be honest. It gets the job done, but I would give it a 5/10. I've seen worse, if it's any consolation. The front facing, 360, and rear cameras make up for it, though, which you can summon at any time (albeit, temporarily). They are very high quality. The C-pillar is a little blindspotty, too (yes, I made that word up).
Q: Ride quality -
A: Fantastic. That was my other biggest worry. I hate the idea of ordering a car without feeling how it handles our AWFUL Michigan roads. It took bumps like a champ. It felt planted, yet luxurious, like a nice Cadillac. It should be noted that this model did not have run-flat tires. There was very little body roll, and you could tell there was a low COG.
agoldman (Alan) -
Q: I'd also like to know how you think the seats feel -
A: They're comfortable. Hugs you a little, but I didn't have too much focus to play with the seating controls/lumbar. They didn't stand out as uncomfortable, so that's a plus. I've gotten into many cars where my first thought was how uncomfortable the seats are. This was not one of those occasions.
Maric -
Q: If Premium AWD, any word on actual 0-60?
A: From my experience (and timing it from my videos), I would put it at 5 to 5.5 seconds. Since it was the First Edition, it was a 4X model.
dbsb3233 -
Q: I'd love to get a measurement from driver seat butt to the ground, if not too difficult. Eyeball it to the seat lip near the butt, then subtract the lip height to get butt height off the ground.
A: Sorry, your question didn't make the cut. But it's low. Lower than Model Y… Model 3 maybe?
DiscWiz (David) -
Q: Can you give us an update on lane centering and how the car handles?
A: He didn't get much of a chance to demo the autonomous features (including basic safety systems), but he said that they work very well and will easily rival Tesla and will exceed Tesla's current capabilities. They are working day and night refining this system, and said this tech has been on the bench for more than 2 years, constantly testing.
Q: Is the 15 inch display intuitive to use and how does the physical nob interface with it?
A: See my above comments.
macchiaz-o -
Q: I'd love for your report back to us to be full of fluffy wording like "throwback styling" and "heroic high speed cornering with the firm pillow feel of a modern steel coaster."
A: Couldn't have said it better myself. Reminds me of the "Maverick" at Cedar Point. Maybe they asked for Intamin AG's input?
krafty81 [also asked by sbdb3233 (Tim) and silverelan] -
Q: I would like to know if the glass roof seems to let in a lot of heat or is unobtrusive?
A: It is a smart *PASSIVE* glass roof. Since it was so bright yesterday, I could barely see out of it. I couldn't feel the sun at all, felt like a black headliner. But he said that at night, you could see the stars.
Regularmache (Stephen) -
Q: Really want to know how much usable space in the hatch with the ER battery eating into the space, not sure if its and ER, but wife is worried won't have as much usable space as her Murano.
A: Looked pretty big to me, I would say Model Y-ish for a real world comparison. I didn't notice any "eating into the space".
Tsand4 (Todd) -
Q: Interested in sound quality of B&O sound bar.
A: Sounded fantastic. It's no "Burmester Audiosysteme" from a Mercedes S-Class, but it gets the job done quite well.
Woeo (Jeff) -
Q: The Fusion Energi and other cars make use of 'noise canceling' technology to reduce noise in the cabin. Will the Mach-E make use of similar tech?
A: There isn't any active noise cancelation, it is quiet enough.
Q: How is the transition from regen to disc braking? Similar to the set-up in the 2017 Fusion Energi?
A: 1-pedal driving is regen. The regen is based on how much you lift off the accelerator. We're not familiar with the Fusion Energi's set-up, but he said he wouldn't ever use disc brakes again since the 1-pedal driving is so intuitive.
Q: I understand a 'hitch' will be an available accessory in Europe but not here. Is there anything about the U.S. models that would limit aftermarket installations?
A: Should be able to install one after-market.
Q: Could the reserved battery capacity be made available over the air if, with time, Ford determines battery life is better than expected? Or in an evacuation scenario similar to what Tesla did in Florida?
A: Unknown as of now, but it is a possibility.
Q: Can the DCFC rate ever be increased or is the 150kW based on wiring sizes or other limitations?
A: That is regulated by software. It could be increased if an OTA update is pushed out allowing it.
Q: Can he discuss the charging curve in any detail?
A: We did not go that in-depth into charging.

Q: PaaK. Can adjust ac heating temp?
A: Yes. Car can be pre-conditioned in many ways (including battery), as well as on a schedule via the app.
ChasingCoral (Mark) -

Q: Is the top speed really limited at 111 mph?
A:
Q:
Please provide an assessment and video of the view out the back window through the rear-view mirror. There are so many cars where you just can't see out the back. I'm hoping the Mach E isn't one of them.
A: See above comments.
Q: Are the back seat headrests removable, especially the middle one?
A: Yes.
Q:
How does it handle in the twisties?
A: Fantastic! See above comments.
Q: How does that B&O stereo sound?
A: Fantastic! See above comments.
Q:
How about some door handle closeups?
A: I forgot to get pictures of them directly, but some photos exist out there already. They are the new style.
Q:
Does installing the front license plate holder require poking holes in the front?
A: Yes.
Q:
Would use of a tow hook-style front license holder mess with the radars?
A: Unknown.
Q:
How does the "flat" deck work in the back? I understand it can be adjusted to provide a flat cargo area when the rear seats are down?
A: I did fold the seats down and it was a nice flat area. I don't think you could fit a standard piece of plywood there.... well, maybe?
Q:
How easy is it to remove the panels in the front to access the 12V battery?
A: Very easy.
trutolife27 -
Q: Like to see how bright the different color lighting effects are.
A: Not terribly visible during the day, but could kind-of see it in the footwells. Very similar to other ford vehicles with Ford MyColor.
Q: Test the 0-60 time
A: No. (kidding, it was between 5 and 5.5 seconds).
Q: look at the underpinning of the rear end bumper area.
A: What about it???
Q: Which door handles are on it.
A: The new ones (not the winged ones that you can stick a few finger through, more like a trough "ц" shape)
Q: How does it feel in corners? Does the weight even out.
A: Very planted with a low COG. See my above comments.

Q: Any new updates on the software.
A: See above.
Wildthing -
Q: Pictures of the headrest adjustments. In the premium it's 4-way so you can tilt front and back. Is the adjustment long enough to find the perfect position?
A: Sorry, I forgot to take a photo of it directly, but I had no issue with the headrest. It was already in an ideal position for me.
Kamuelaflyer (Bill) -
Q: In retrospect, was there anything about the car that you saw or experienced which either made you think, "Oh that's not quite right?" or "Oh that's really clever?"
A: I hate the knob shifter. But I love the push-button doors. I wish the interior was a little more "Mustang inspired" but it's still a modern, good looking and functional interior.
A few of my own personal notes (jdmrc93, Joe) -
•Side-view mirrors are very small, smaller than the average Mustang coupe. They are not frameless, but they do fold-in automatically when locking the vehicle.
•There is a constant chime when backing-up to alert pedestrians, as well as an audible sci-fi sound.
•The artificial sound for the engine noise, especially the unbridled version, sounds amazing… Futuristic, but aggressive.
•There is a typical Ford key-FOB included with the vehicle. You can enter the vehicle with a pin on the door, and you can also start your vehicle with a pin on the screen, after it says that it doesn't detect a phone.
•There is no button for rear tailgate in-cabin, it is only accessibly via screen (there is a button on the hatch itself, though)
•Door chimes are traditional Ford, but a little easier on the ears.
•Back seat leg/head-room was comfortable. I wouldn't want to travel more than a couple hundred miles in it, but not bad for around town or short trips.
•The hood-lines are very striking from the front seats.
•There is no information regarding Apple CarKey integration currently.
•For those asking about mi/kWh or overall range, here are some notable comments:
1) He drives the vehicle rather aggressively.
2) He keeps the AC on.
3) For him, with the 4X, expect 230-240 miles comfortably. Range anxiety kicks in after that, like when your gas light comes on. It's not that you can't go farther, he just hasn't tested it, personally. But expect official numbers to be around 3.6 mi/kWh.
•If I didn't answer your question, it is because I didn't bring a tape measure or level with me.
I'm glad I could offer a window into the MME for you, and it was a fantastic experience. I can't wait for us all to have one in our garages/driveways. I know what my FE looks like in my driveway! Now, back to plebeian status for the time being.
Here are some additional photos (a couple I extracted from video)...
The rather small side-view mirrors:
A few drive mode switches:
Another of the car:
Here's a few pics to hold you over...
And he picked up the FE in Grabber Blue