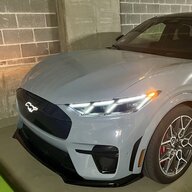 First Name

Steve
Joined

Oct 3, 2021
Threads
Messages
Reaction score

1,292
Location
Vehicles

2022 Mach-E Premium ER AWD

This summer, my wife and I planned to spend some time in Northern Michigan with our 2 tweens and our 6-month old mini schnauzer. We found a house on Airbnb in a heavily wooded area that has an EVSE. Then it dawned on us that while we've been talking about "circling the lake" for years (yes, it's a thing, t-shirts and all), it would be cool to do it in an EV and brave the "charger desert" of Michigan's Upper Peninsula and Northern Wisconsin. A quick search on PlugShare yielded a "not convenient, but technically feasible with proper planning" conclusion. After consulting with the girls, the family decided to take the challenge head on.
Trip Details:
A wide 950-mile circle around the great Lake Michigan + 200 miles of local driving.
The route goes through 4 states, 2 time zones, and requires 2-3 days of driving.
Not a "by-the-book" circle tour. We did not hug the lake or stop at every site, etc. We did do a complete circle biased towards where chargers are located.
Optimized for efficiency: tire pressure set at 42 psi cold / 45 psi warm.
Puppy gets the frunk for furnishings, toys, and food; humans share the trunk.
Chargers around Lake Michigan, filtered on DCFCs >49 kW, still quite sparse in UP and Wisconsin.
Leg 1: Chicago to Cedar, MI – Looks matter, to a point. Why are patties square?
Departed downtown Chicago early morning with 85% SoC headed to Cedar, MI, a town of 102 residents on Michigan's infamous M22 road. Plan was to stop at an Electrify America at the outskirts of Grand Rapids and charge to 90%, enough to make it to Cedar.
Arrived at EA and 2 out of 6 stations were either down or charging slowly + one occupied by an EV6. Pulled into one working spot and charged with no issues. EV6 owner came over and we had a 30 min conversation. He confessed his love for the Mach-E, especially the Iced Blue Silver color and offered to buy it! He was shocked to hear that used Mach-Es are selling for $40-45k. He claimed his GT-Line EV6 was $43k pre-tax net of fed credit.
The only convenient place to eat was Wendy's. Naturally, the kids started a line of questioning about why patties are square. Luckily, Siri was able to settle it and conveniently blamed some Dave dude for claiming that squares are more efficient to grill (although Wendy's PR insist that patties are square cause "at Wendy's, we don't cut any corners").
Once at the Airbnb, plugged into a Blink EVSE and charged to 100%. It was so wonderful to charge at home. A game changer, really. (note: we are not among the lucky ones that have a L2 at home and rely on DCFC).
EA station featuring 6 units dispensing 350 kW.
The joy of charging at home!!
Puppy feeling the fresh air at Glen Arbor's Sleeping Bear Dunes.
Glen Arbor's Sleeping Bear Dunes.
Leg 2: Cedar to Green Bay, WI – The joy of driving with kids and a dog. And the 45-min Caesar Salad.
A few days elapsed enjoying the quietness and scenery that Northern Michigan offers. Even the dog was totally shocked by the sheer number of trees.
Then the longest travel day was upon us. Mach-E charged to 100% and conditioned. The first 1% lasted over 10 miles, which put a big smile on my face. Despite ABRP insisting we could caveman it all the way to Escanaba (a whopping 268 miles away), I planned to pursue a 2-stop strategy and charge at the Odawa casino in Mackinac City.
Once there, we found 4 working ChargePoint stations, all available. Activating took seconds via Apple Wallet. Car was at 59% SoC and only needed 80% to make it to Escanaba. I thought we could be efficient and stop at McDonalds for lunch. No luck. My daughter insisted on having a Caesar Salad. My wife and kids walked to the casino and, it turned out, the restaurant is on the gambling floor (no bueno for under 21). Luckily, they agreed to have an employee escort them throughout their stay. 45 minutes later, we are still waiting on the goddamn salad.
Once done with lunch, we proceeded to cross Mackinac Bridge to the UP. As soon as we crossed, reality sets in: we have to make it to Escanaba with 80% SoC and no other chargers within reach. In fact, the Escanaba stop has 1 DCFC only and some drivers had issues activating. Kept the faith and stuck to the speed limit. We made it to Meijer Escanaba with 18% SoC and vuala! found an antique, but totally functioning charger. Tried activating with credit card, no luck. Then a Bolt driver steps out to tell me that I needed to use the app. I had downloaded Shell ReCharge app just in case, but opted to use FordPass, which worked immediately. We charged to 82% and departed to Green Bay.
Green Bay has 0 DCFCs. Even worse, hotels are either EVSE-equipped or dog-friendly, not both. We chose to stay at a dog-friendly hotel and deal with charging the following morning. Dog thought it was a wise move, especially that Mach-E still doesn't have a dog mode (we're still waiting
@Ford Motor Company
!).
Mackinac Bridge (aka, Big Mac, Mighty Mac): a 5-mile bridge connecting the 2 peninsulas that form the great state of Michigan and runs over the Straits of Mackinac, connecting 2 great lakes (Huron on the right and Michigan on the left).
Meijer in Escanaba features an ancient looking charger that saved the day and was the fastest ever @92kW average (formerly Greenlots, now Shell ReCharge).
Leg 3: Green Bay to Chicago – What a cute little Genesis! And a theatrical reception at home.
Once at the hotel, I got busy planning the last leg of the trip. Car had 39% left. ABRP suggested charging on a local L2 another ~10% to make it to an EA in Milwaukee that was clearly closed. It also identified a Genesis dealer in Appleton that PlugShare flagged as 'restricted'. Dug into the details and found out: 1) not restricted, 2) close to the highway, and 3) totally free.
The next morning, we headed to Appleton and charged for 62 minutes while the dog slept soundly, wife and kids read, and I played Tiles. My daughters kept admiring Genesis cars and how cute they were! Pretty sure not what the marketing team was going for.
Once charged to 90%, started our last segment: Appleton to Chicago, a 3.5-hour, 195-mile highway drive. Stopped for lunch at a McDonalds in Racine before crossing the Illinois border.
With the downtown Chicago skyline in view, we heard the loud rumbling of fighter jets flying low and in formation. Completely forgot the Air and Water Show, which offered a great, theatrical ending to our adventure.
Even more importantly was how excited the kids were to complete the circle successfully, with no drama! They even asked where we're going to next!
Final stop at a McDonalds in Racine, before crossing into Illinois. Car looking absolutely gorgeous.
Our final approach into downtown Chicago. Couldn't get a shot of the Thunderbirds flying above in formation (just take my word for it).
Things we learned during the trip:
ABRP is too optimistic using standard settings, I wonder if others have seen this and have set up recommendations.
Apple Maps defaulted to inefficient routes, with some options saving 5% or more for another 3 min of driving.
Hodgepodge of charging sites across Michigan and Wisconsin where chargers are located at: an art gallery, casino, tractor supply store, gas station, marina, rental car company and yes of course grocery stores and dealers.
Meijer wins the day. Without Meijer (a great local grocery store), EV driving in Michigan would have been an unmitigated disaster, sort of like Wisconsin.
It was lovely to see kids stop asking: "are we there yet?", rather: "how much battery do we have left?"
Blue Cruise worked well in some locations, not well in others: did a terrible job around Chicago, an okay job on I-94, and a masterful job on I-196, US-131, I-41.
And finally, driving the Mach-E on country roads with small hills and lots of turns was such a treat!
Here are some numbers for the analytical types.
Last edited: