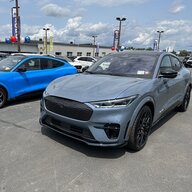 First Name

Ian
Joined

Aug 29, 2021
Messages
Reaction score

179
Location
Vehicles

Current: 2021 Mach-E GT, Former: Toyota Highlander
Occupation

Engineer

I picked up my GT from the dealer yesterday and drove the 140 or so miles home. Here are some quick impressions:

1. Quick!
2. Came with BlueCruise. I like it. Very easy to activate and seems intuitive. Traffic was moderate on the interstate but the adaptive speed and steering performed well. It gently alerted me with a low "bonging" tone if I wasn't paying close enough attention to the road. Maybe the biggest drawback is not actively driving the car.
3. Started out of the gates in one-pedal driving mode. Seems to work fine but I need to figure out if the brake lights come on when I take my foot off the accelerator. Don't need to get rear ended.
4. Used a "Greenlots" DC charger activated through "EV Connect" app on the NYS Thruway to go from 40% to 80% charge. Took about an hour (40 Amp rating). My first time charging a BEV and everything went very smooth. Tried using an "EV Go" station today on a credit card without luck. The station and car didn't seem to know how to talk. A few folks come over and ask questions on the on the thruway station about how the charging works, how I found the station, and was the car really fully electric.
5. Steering is tight. Haven't played much with how the car changes it based on conditions.
6. Ride is a bit stiffer than I was anticipating but it makes sense. The Mach-E Premium definitely smooths the road expansion joint cracks out a little better but that's probably more of an issue for the passenger(s).
7. UI is very intuitive (I'm 49). Lots to explore but the basics are all right there.
8. Love the seats/interior. Firm but not too hard. I can see the material however is probably going to need some additional attention like vacuuming.
9. My Mtn. bike fits inside with the second row seats down but that's about it. I expect my torklift (eco) receiver Monday to mount a couple of bike trays.
10. Pano roof is nice. Probably wouldn't have spec'd it and not sure if this changes my mind but it does open the cabin up. Likely to look for a cover/shade that can be installed for next summer.
11. The Dealer did mess up the residual percentage on the Options program so he called later that night. I had to resign the contract on my phone (which is how it was done at the dealership) but overall not a big deal.

The perfect end to the day came at my son's HS Home Coming and some yahoo came up and asked what was under the hood. I said nothing but a cargo bin and he thought I was kidding. He about crapped himself when I popped with hood (with my phone) and there was no engine. He then asked what I paid for it... Friendly enough guy but I'm going to guess he won't be last of his kind. He drove off in is ICE Dodge Charger making a racket.

Great car. Congrats to all who are getting one!