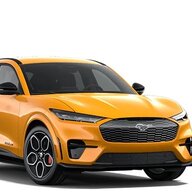 Joined

Aug 2, 2021
Threads
Messages
Reaction score

20
Location
Vehicles

2021 Mache GT Cyber Orange On Order

Hey Everyone,
Just hoping to find some info on an error that we got about a week and a half ago. We switched from Reverse to Drive and the car freaked out and essentially bricked. The Shift System Fault error popped up and wouldn't engage any gears we rolled backwards into a fence before we were able to engage the parking brake. We had to get the car towed to the dealer and have not heard a single thing from them. I finally got through to the technician this morning and they told me that they still need to take off the panels to see what is causing the issue... It makes me think that they have not really taken a look at it other than to see if it would start and the error was cleared, but I might be frustrated/cynical. Our dealer is Star Ford in Glendale, CA.
This is the 2nd time we have gotten this error. We got this error on a road trip while we were in Grants, NM. They towed us to the local dealer who cleared the codes and took a look and said "it must have gotten wet." That all took about 4-5 hours and we were back on the road heading home. The dealer in NM was super helpful and very nice.
Part of our frustration is that they have not communicated well, and we have been asking about a courtesy vehicle since Saturday after the initial incident (9/3). Only today did they say that they could text us an enterprise reservation number, but we would have to pay taxes. It's incredibly frustrating that it has taken so long to just get the tiniest amount of information. We were trying to be nice and let them get to work at first, but it seems that has bit us in the ass.
So if anyone has any ideas about what this error might be I would love to have some more information.
Thanks everybody!
**Edit to upload a JPG not PDF.