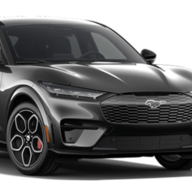 First Name

Kevin
Joined

Aug 1, 2021
Threads
Messages
Reaction score

353
Location
Vehicles

Mach E GT- Dark Matter Grey

I've finally put 500 miles on my new Mach E and the most recent 200 miles were a round trip from Charlotte up into the NC Mountains for Christmas. To track efficiency and get a sense of the car, I broke the trip into three segments that are fairly distinct in their profiles.
Segment 1: Charlotte I-85 to NC 321 in Hickory, NC
This segment is all highway. Posted speed limits of 55-65MPH. Bluecruise worked for all of this segment. There were a few points where the car asked for an intervention, but otherwise we kept Bluecruise set to 77MPH and let it do its thing. Net elevation gain in this segment is only 200ft.
Approximate segment distance: 58 miles
Segment 2: NC 321 in Hickory, NC to Lenior, NC
This segment is a more in-town thoroughfare. It's 4 lanes, speed limit 45MPH, with traffic lights. Average speed when moving through the area is in the low 50s. Net elevation gain in this segment is only 200ft.
Approximate segment distance: 18 miles
Segment 3: NC 321 in Lenior, NC to destination in between Boone, NC and Blowing Rock, NC
This segment is the most interesting. In the final 25 miles to our destination there is nearly 3000ft of net elevation gain. We were curious to see how badly it did going up and how great it would do coming down. Speed limits in this leg are anywhere from 25MPH - 45MPH.
Approximate segment distance: 25 miles
Methodology for data logging:
All data was measured off SOC deltas with an 88kWh battery pack. For example, the energy used for a segment would be calculated as (SOC1 - SOC2)*88. Mileage was calculated by taking the difference in the odometer readout. Those two values drive the majority of the numbers reported below.
Car setup/cargo/weather:
Ambient tire PSI was a touch above spec at 41. On the road it was reading 45-46PSI. Car was kept in Engage mode (
one pedal drive disabled*
), Bluecruise used when available, and no efforts to hypermile. On board were our dog (45lbs), my wife, and I (weight not disclosed for either human because I'm happily married and intend to keep it that way). Trunk and Frunk were both full of baggage and presents (though nothing overly heavy of note). Weather in North Carolina was unseasonably warm for this time of year, driving took place with temperatures in the 60s and some wind (mostly impactful on the way up as opposed to coming back).
Drive up the mountain data, comments, and performance:
Segment 1 heading up to the in-laws was our first experience with Bluecruise. In general, we were impressed with its performance. It definitely likes to hug the right side of the lane more than I normally would, but at the same time my wife in the passenger seat wasn't overly concerned with the cars position in the lane. After reading all the hemming and hawing on the forum about the suspension and it's compliance (or lack thereof), I was nervous about how it would feel on highways that are rutted/have expansion joints.
I'm happy to report that the suspension is absolutely a non-issue for us. Is it stiff, yes. Is it uncomfortable, no. I owned a GTI previously and find the Mach E far more compliant than that car. My wife commented on how smooth it was, and the pup in back showed no signs of nausea (he never has, but some folks here made it sound like riding a wooden roller coaster).
Segment 2 was my first experience in stop and go traffic without 1PD. It took a minute to get used to but found the brakes easy to modulate right until the car came to a stop. No matter what it seemed like I got a lurch as the speedometer ticked over to zero.
Segment 3, known as "the climb" was eye opening in many ways. Firstly, it was really the first time the car felt
heavy.
Maybe it was that I was trying to not simply crush my remaining battery by flooring it, but the car felt slow. It never felt like it wasn't getting up the hills, but it didn't seem eager to either. In my GTI we'd just drop a gear and fly up the hill. In the Mach-E, it felt more deliberate.
Also eye opening was how quickly the SOC shed its digits. A mountainous area may be the only place where the GOM is too optimistic. Mileage shed dramatically and it makes sense in that my GOM seems to estimate about 2.5mi/kWh and going up the mountain we only achieved 1.6mi/kWh!
Overall performance on the way up was 2.28mi/kWh. Obviously not great and just a theoretical range of 200 miles on a full charge. I reset "trip 1" before leaving and compared my math to what the car reported. The car reported 2.5mi/kWh, roughly 9% ambitious.
Anyways, here she is at our destination at about 4,000ft.
Drive home data, comments, and performance:




Wow, just wow.
Segment 3, the climb, turns into a regen party on the way home. Just 2.6kw used on 27 miles downhill. Remember that asterisk where I said 1PD was always disabled? That wasn't true for segment 3 coming home. 1PD made the descent so easy. When we bottomed out at the beginning of segment 2, I turned 1PD off for the remainder of the trip. We only lost 3% on the SOC while the GOM only lost a single mile. The overall descent in segment 3 was much less work than in my GTI, which required downshifts to engine brake as well as modulation of the brake pedal.
The rest of the trip home was anticlimactic. Got through segment 2 without issues and enabled Bluecruise for segment 1 all the way home. Overall, to get home we used just 66% of the energy we needed to get up the mountain. 3.53mi/kWh on the return leg. The trip meter reported 3.7mi/kWh, roughly 5% overly ambitious.
Summary and a quick note on charging:

Grand totals for the trip came to 203 miles traveling to and fro, 73.04kw used, for an average of 2.78mi/kWh.
Not too bad for all the elevation ups and downs. We'll definitely be taking these types of trips with the Mach E, hands down.
My inlaws did not have a 240v outlet accessible, so took a charge at a 62.5kw Chargepoint DCFC location maintained by Blue Ridge Energy. The good news is that it worked flawlessly. The bad news is that it's the only DCFC charger (and only a single stall installed) in all of Boone/Blowing Rock. As EVs gain prevalence (and they are, quickly!), these NC grants to install DCFC locations will have been a nice gesture, but not meaningful infrastructure for the masses.
I was charged $5.00/hr, 43.76kWh delivered for a total of $4.33. SOC went from 35% to 81%, or 40.48kWh for an overall efficiency of 92.5%.
Overall a very pleasant trip with the Mach E, and given this result we're thinking that the Mach E will get the nod for our upcoming New Year's trip from Charlotte to Cincinnati, OH.
Thoughts? Questions? Am I totally wrong? Let's chat!
Last edited: