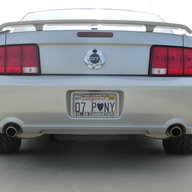 First Name

Phil
Joined

Jun 24, 2020
Messages
Reaction score

25
Location
First Name

Phil
Vehicles

Lincoln MKX, Toyota 4Runner, Mustang Mach-E (order accepted!)

TLDR warning, and the details will only be of interest to a few.
I thought some explanation regarding my reservation and ordering experience might help some others. I've pieced this information together through interaction with my dealer and several contacts with the Ford Mach-E support line, most recently this morning (6/29).
As background, my reservation was placed personally with my EV dealer (with deposit), apparently unlike most others on this forum, which were placed on the web.
Strangely, I never received emails directly from Ford confirming the reservation, nor did the reservation ever show up on my "owner.ford.com" or "ford.com" account(s). Earlier this year, when I called Mach-E support about it, they verified all my personal details and confirmed that my reservation was in the system. At the time, they did something that resulted in me getting the "congratulations on your reservation" email that I should have received automatically.
Satisfied, I left things alone until I started seeing that others begin to get emails regarding converting reservations to orders -- along with other information with the dates that the order banks were likely to open.
Still having received nothing by email from Ford, I began to worry a bit and started hounding the daylights out of my Ford dealer early last week. They were somewhat confused about the whole process, but very helpful. They saw my reservation in the system and, on Wednesday 6/24, were able to place my order on their WBDO (aka web-based dealer order) system.
Now, I'm going to paraphrase a bit to relate what the Mach-E support line told me. My terminology and details may be slightly fuzzy, so those in the know might want to chime in and clarify.
You'll note that my order number (#0224) is different from that of others. All the other order numbers in the order tracking spreadsheet seem to be the actual reservation numbers. Having read through the various posts on the forum, I understand that production sequencing will be based on date of reservation. However, because my dealer order didn't have my reservation number displayed along with my order, I didn't see how that could work for me, and I assumed that my order was an uncorrelated orphan.
Again concerned (and no, I'm not the worrying type, I just like to understand and fix things) I contacted Mach-E support again this morning (6/29) and explained everything to a very helpful Amy. She immediately saw on my account both my reservation and its number, and the dealer order with its different number. However, she was puzzled as to why I wasn't receiving the emails, and why I couldn't see that I had a reservation which had been converted into an order.
She did some checking and found the reason. Even though my dealer is EV certified, it turns out they have never enrolled (as a dealer) in the "online ordering system". From what I now understand, WBDO has two components; an "offline" part the dealers use, and on "online part" that end-user customers use. The Mach-E reservation and order conversion process is the guinea pig for this new way of customers doing business.
Because my dealer hasn't enrolled, the two parts of the system are not married for their customers. It's that process that connects and enables the "offline" (backend?) system to communicate and drive the customer-to-dealer workflow and notifications. That's why I've never received automatic emails and notifications, and also why I cannot view and track my order progress status via my account.
Amy told me that none of this matters. She said there's no way the dealer could have placed my order with me having a reservation. She confirmed that the two order numbers are correlated in the system via my customer details, and she assures me that my order will be picked-up and correctly sequenced by the production schedulers when the time comes.
From all this, I assume, but haven't 100% confirmed, that everyone who converts a reservation to an order will have two numbers. Customers will only see their reservation number, and dealers and other involved Ford employees will also see the "backend" order number. Although probably pointless, you might be able to find out your "other" order number by asking your dealer to look it up in their WBDO system. If someone tries, let us know the result.
So, none of this really matters to any of you EXCEPT, where some forum members have tried to turn their reservations into orders and received a message something like "Your dealer isn't ready to accept orders yet" or words to that effect. That's a direct clue that, like my dealer, your dealer hasn't opted into "online ordering".
According to Amy, when the dealer enrolls, all the workflow, messages, and online progress tracking will magically start working. We'll see. I've contacted my dealer today because they're not aware of this, and they're likely to have a queue of "orders requiring attention" that they either don't know about, or don't know what to do with. To enroll, the dealer has to contact the Ford "Business Assistance Center". Amy wouldn't give me that number!
Two other things.
-- At this stage, I don't know how I'll get my reservation deposit refunded. I'm not too worried though. My dealer didn't require a deposit and somehow, eventually, if not refunded, it will get applied to my purchase.
-- Ford Marketing (they're the ones doing Mach-E order support) are saints. All of my contacts have been with people who are extremely polite, friendly, patient and helpful, even though they are all obviously on a learning curve too.