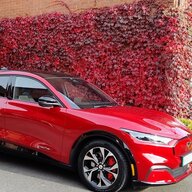 Joined

Aug 27, 2021
Threads
Messages
Reaction score

296
Location
Vehicles

Jaguar XF -> Mach E AWD ER, Rapid Red

Don't forget that the Model Y will cost $6000 extra for "Enhanced Autopilot" or $12,000 for their still-beta "Full Self Driving". You have to count that in the price, and I think the reviewers for this video failed to do that.

They even said that the MME came with more standard features but they did not make up the price difference -- however, the cost of those features on the Tesla are literally more than the price difference. They even opted for the cheap wheels on the Model Y to keep the cost down. The comparison should be:

- Ford Mustang Mach-E Premium Extended Range AWD ($66,275 USD, £66,555)
versus
- Tesla Model-Y Long Range with Enhanced Autopilot and the 20-inch "Induction Wheels" in a 5-seat configuration ($74,990 USD, £65,680)

As you can see, the Mach-E is substantially cheaper in the USA and virtually the same price in the UK. I am guessing Tesla builds them in the UK or somewhere where the UK does not charge as much import tax.
In UK the MME AWD ER is way more expensive than the MY LR. I have posted about this.
We don't get Bluecruise.
These MME vs MY comparisons are getting repetitive and boring.
The MME and MY are pretty comparable in size, range and driving comfort.
I don't like the blandness of Teslas. I accept they have better software.
Others will have different reasons to prefer the MY. Good luck to them.
We dont get gold medals in life for owning the cars of our choice.