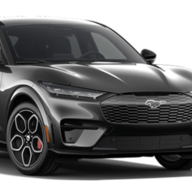 First Name

Kevin
Joined

Aug 1, 2021
Messages
Reaction score

78
Location
Vehicles

VW GTI Autobahn Manual, Mach E GT (on order)

I'm waiting on my GT Order to come in through Town & Country Ford here in Charlotte. I've been working with Chris, and he let me know they had a canceled order come available if I wanted to cut the line.
My wife and I went down there this evening to test drive the GT and see if it was the car for us or if we'd wait for our order.
Not to spoil the program, but we're passing on
this particular GT
and waiting for our order. If you're interested, reach out to Chris or Q at T&C Ford. It's listed on their site and on the sticker without ADM (no guarantees though).
Now for the test drive thoughts:
It's clearly way, way faster than the Premium LR I had previously driven. My wife's (who wasn't with me for the premium LR AWD test drive) reaction was "Oh Sh!t this is fast". The car was at 42% SOC and man was it quick. I don't have any hard numbers but the butt-o-meter was faster than anything else we'd been in.
We're not huge fans of the Miko Inserts. The seats really aren't ActiveX (leather equivalent) with inserts, they're really Miko seats with ActiveX trim. Not a deal breaker but be advised. The bolsters to hold you in place aren't all that aggressive, will be quite comfortable on long drives.
The bronze accents are well done. Breaks up the cabin nicely.
We're in the minority, but we are fans of the wheels. I think they look a bit more understated than the GTPE rims.
The cabin felt noticeably more cramped without the glass roof. We're glad our order has that option selected, and was the dealbreaker for us passing on this particular car.
Wife called out how nicely the car rode down the road.
Black is a fine, but not great, color for the car.
When the car was in reverse, it has the usual "white noise" but also a beeping backup that's not all that dissimilar from what you hear on delivery trucks. Very odd and a little much IMO. I don't remember hearing it on my prior test drive.


Last edited: