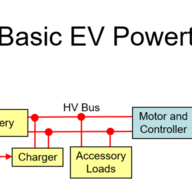 First Name

Doug
Joined

Oct 30, 2020
Threads
Messages
Reaction score

269
Location
Vehicles

Mach-E AWD ER IB Job 1
Occupation

Engr Prof

All vehicles have emissions certification posted by EPA, even zero emissions vehicles.
Today I finally found the Mach-E certificate summary information (CSI) posted (see links below).
There are two Mach-E vehicles posted; AWD ER and RWD ER.
This data is the unadjusted City/UDDS and Highway/HWFET range
derived from a single test, the SAE J1634 Multi-Cycle Test (MCT).
The data does not look to too promising.
1. All-Wheel Drive Extended Range Mach-E
For AWD ER, UDDS unadjusted range = 371.5 miles, Hwy = 338.9 miles
The unadjusted combined range is then 0.55*371.5 + 0.45*338.9 = 356.8 miles
The adjusted, label range is expected to be 0.7 * 356.8 = 249.8 miles = 250 miles (rounded).
So not 270 miles as expected.
2. Rear-Wheel Drive Extended Range Mach-E
UDDS range = 434.9 mi, Hwy = 382.9 mi, so Unadjusted combined range = 411.5 mi
and adjusted label = 288 mi
The certificate also has the road load and test mass information;
The Mach-E is not too svelte at 14.9 road load hp (at 50 mph).
Last edited by a moderator: