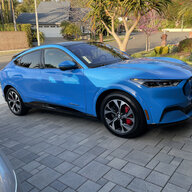 First Name

Mike
Joined

Feb 25, 2021
Messages
Reaction score

178
Location
Vehicles

'21 Mach-e (Had '83 GT, '89 GT Ragtop, '13 GT)

Took the car, and my mom, out to drive around today, Orange county into LA county and back. Tried the intelligent cruise control, kind of liked it but felt strange being passed by all the other traffic. Mostly freeway, but about 25%-30% streets. The m/kWh started out great, 4.4 because of all the regen braking to get to the freeway. By the time we got to the halfway point, it at leveled out at 3.9. I was very happy with that.
Coming back, stopped for some lunch, a quick 15 minute stop. Left the
engine
on while we ate. AC, music, etc., and I did notice that the radiant heat from the glass roof was a bit warmer than the rest of the car. Ambient temperature was low 70s outside. Leaving, I noticed it was now at 3.7 m/kWh, still happy with that. But, as I was making a left turn onto the freeway, the small drink I had in the cupholder decided to keep going straight (i.e., to the right at the passenger seat, thank you inertia!). Luckily it was just ice at this point and I caught it before it hit my mom's legs. Drove the rest of the way home with a napkin wedged between the cup and the holder and my arm resting with my hand on top like it was a gear shift. I think that Ford assumed that Americans never get a drink smaller than a quart
. My guess is a medium or larger would wedge better in the cup holder, and it would help if the cup holder was a bit deeper. But an overall nice drive today.
BTW, not wanting to kick the hornets nest, but on Friday I did a test fast DC charge and had a flawless plug & charge initiated from the Ford Pass app. Went from 70% to 80% in 9 minutes, around 70 kW that plummeted when it hit 80%. The charger was an EA 150 kW.