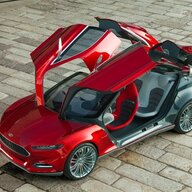 Joined

Jul 13, 2020
Threads
Messages
Reaction score

13,880
Location
Vehicles

Lincoln mkx , Ford f-150, Mache

[email protected]
: Mustang Mach-E Social Challenge Honors Unique Strength of Women
With the aim to increase Mustang Mach-E affinity among women, Ford launched the #ShowSomeMuscle social media challenge lead by American ballet dancer Misty Copeland, pro basketball player Gabby Williams, and Ayana Lage, an advocate for social justice, who are sharing their personal stories of strength and resilience on Instagram.
Ford believes it's more important than ever to shine a light on the tenacity and achievements of women today who are driving change for good, transforming lives, challenging stereotypes, and driving cultural and political movements.
I personally relate to this campaign with my own #ShowSomeMuscle story.
When I was in college, I never dreamed I'd be working on an all-women wiring team for an all-electric Mustang SUV.
But here I am.
I've been with Ford for three years as the design release engineer for the instrument panel, doors, liftgate, front and rear bumpers, center console and subframe harnesses for both base Mustang Mach-E and upcoming GT programs. My team – unofficially called Team Unicorn, as we've come to be known because of our ability to fix things as if by magic – includes my colleagues Shelly Vargo and Kelley Ice. Mustang Mach-E, an all-new all-electric vehicle, challenges conventional notions of what a muscle car is. Muscle is about more than physical strength – it encompasses resilience, power, empathy, creativity and experience, attributes we want to embrace in a conversation around muscle.
My passion for a career in the automotive industry was sparked at a young age by two women who embody #ShowSomeMuscle: my mother and grandmother.
Women in my family had to be strong. My mother was our main breadwinner. As a small business owner she taught me to make sure I was self-reliant and equipped to take care of my family financially if I had to. My grandmother went from stay-at-home housewife to working at Ford building bombers for the war effort during WWII while my grandfather fought overseas. I'm still inspired by her ability to manage raising her children alone while her husband fought a war. I call both women the epitome of strength and determination – and I am inspired by them.
That's not to say I haven't faced challenges in my career. The roadblocks I and other women across the industry have encountered in what was considered a "man's field" has made me determined and resilient. I learned how to pick myself up and not let people break my spirit or prevent me from achieving my goals.
And I continue to show my muscle with Mustang Mach-E. This all-electric vehicle represents muscle in the ever-growing electric vehicle market – and I've had a huge part in that. Frankly, without my team's talent, Mustang Mach-E would have no power. That also means no 15.5" center display and of course, no over-the-air updates.
To illustrate the spirit of the challenge, Ford is working with Detroit-bred fine artist and muralist Sydney James to create custom artwork for a limited-edition #ShowSomeMuscle T-shirt, which I will proudly wear as part of our company culture that celebrates women and kind of strength it takes us to keep pushing forward – both in the workplace and at home.
I encourage women to let their voices be heard by sharing their own #ShowSomeMuscle stories on their social media platforms. You never know who might be inspired by your journey.