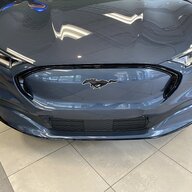 Joined

Jun 24, 2020
Threads
Messages
Reaction score

23,891
Location
Vehicles

2021 MME Premium AWD SR Infinite Blue

TL;DR - I worked with FITCAMX to test dash cam designs for the MME. It's now available to purchase (links at the bottom of this post)
I never really thought dash cams were necessary, but then last year, somebody pulled out in front of my son (while he was driving my wife's RAV4 Prime). He successfully swerved around her, but she claimed that he hit her car and dented the bumper (even though there was zero damage to the RAV). She filed a claim against our insurance company, which was ultimately denied due to lack of evidence, but it would have been a whole lot quicker and easier if I had dash cam footage.
But I really don't like the look of aftermarket accessories hanging from the windshield or visible wires snaked around. My research led me to FITCAMX, which is a Chinese company that makes replacement mirror surrounds with integrated dash cams. I installed one in the RAV4 and was very impressed with the OEM look. Then I installed one in my son's Jeep Renegade and was equally impressed.
Sadly, FITCAMX didn't list one available for the Mach-E. I reached out to them in April to see if one was planned, and they said that they had a prototype based on a Chinese market Mach-E that I could try. Of course, I agreed, and they sent it my way. Right off the bat, I could tell that it was not the same as the mirror surround in North American MMEs. It was a little bigger, had an opening on the side for a USB port, the vents were different, and one of the clip mounts was in a different location:
Another issue was that the plug for the pass-through that pulls power from the rain sensor had a little plastic tab on the wrong side.
I trimmed that tab off, and I was able to get it to fit.
Although it wasn't a perfect fit, I installed the Chinese version and confirmed that it functioned as expected.
Since they didn't have access to a US version of the MME in China, my contact at FITCAMX asked if I would be willing to send my original mirror surround to their 3D scanning partner in Florida so that they could digitally scan it to create a mold that would be a better fit. I agreed and shipped it off to Florida. After scanning, they were able to overlay the Chinese and US versions in their modeling software. The red shading shows the dimensional differences between the two:
With the digital scan, they were able to create a new model and 3D print a prototype for me to try. The color was horrible, but the fit was much better. Here's the new prototype next to the Chinese one:
And mounted in the car:
After sending them pictures, including a screen grab to show the angle of the camera, they sent the design off to the factory for mass production.
The original estimate was about a month to have the first production units roll out of the factory, but they ran into an issue with the mold that took an additional few weeks to resolve.
I received word last week that the production version was finished and one was being shipped my way to test and photograph for installation instructions. I was planning to wait for that before posting my story here, but it appears that FITCAMX has already listed them for sale on their website and their Amazon store. Since owners are already reporting placing their orders, I figured I'd get this out before they start arriving. All in all, this process took about 4 months. I don't get any kickbacks or anything, so I take no responsibility for the product if you don't like it. But I will be so happy to not have to look at the ugly cream colored mirror surround anymore!
FITCAMX Purchase Link
Amazon Purchase Link
EDIT: I finally received the production version, which was stuck in customs clearance for a while. The folks at FITCAMX asked me to record my install so that they could use it in their instructions, and I'm posting it here as well. It took me about 2 minutes to install, but I cheated a little since I didn't have to move the clips over from the original surround (I had an extra set).
Last edited: