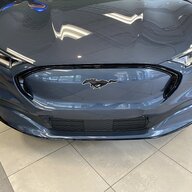 Joined

Jun 24, 2020
Threads
Messages
Reaction score

15,360
Location
Vehicles

2021 MME Premium AWD SR Infinite Blue

Thanks everyone for the feedback.

If anyone has charging speed especially DC FAST charging speeds with the AWD Standard range that would really help. If I have to drive 350-400 miles in a day, what is the difference in time between STD vs EXT range. AWD is preferred so referencing AWD STD Range trips of longer than 300 miles.
Since it seems the charging curve changes dramatically at 80% SOC, if we assume ~200mi for 100% @ 70 mph, then first stop will charge to 80% which should give about at 160 mi. If this estimate is correct than totally ok with AWD STD Range. if we use Ford #'s 68 KWH (211 mi) vs 88 KWH (270 mi), it seems the smaller battery pack is more efficient.
But if the smaller battery pack takes longer to charge to 80% .. ?..

The AC charging is also something I am interested in. The 11 kW rating applies to any trim but I wanted to confirm. Anything greater than 10kW AC charging will work.
AC charging is the same. I have no trouble sustaining 11kW with my ChargePoint and SR battery. I haven't tried DCFC though, so I'm not sure what that charging curve looks like. In theory, the peak rate is 115kW, which is less than the 150kW of the ER models. But since that 150Kw is only held for a few minutes, I'm not sure if it will make a substantial difference.