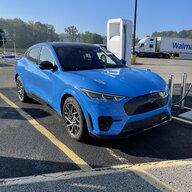 First Name

Sam
Joined

Feb 21, 2021
Messages
Reaction score

645
Location
Vehicles

2021 Mach-E FE

I had come across some threads today about LVB issues. Having owned a Focus Electric in the past I know how bad 12v batteries can be in EVs. Hoping the Mach-E doesn't have issues.
I decided to do some research and found information Ford recommends for replacing the 12v battery - and I must say it is way too complicated. I have no idea what they were thinking or why it is this complicated of a process.
Disclaimer: Do not take my word for any of this. I am the messenger and fixing cars with HV systems can be dangerous if you don't know what you're doing or have the proper tools.
To replace 12v Battery
Remove all of the trim pieces under the hood and the luggage tub completely. I don't know if this is truly necessary, you may be able to wiggle it out but it does look like it is partially underneath it.
Next step is to de-energize the HV system.
Note: I have no idea why ford wants you to do this but its in there. They have a procedure to do this including using FDRS to confirm the HVB is de-energized or a "manual" way to do it with a ton of warnings. Manual way is also done with FDRS...just no FDRS confirmation it is at 0 voltage.
It appears there is a "lock out tag out" type device under the hood they call the CPA or Connector Position Assurance. Procedure is simple. Push the tab and pull the connector out, then put something in the hole to keep it from clipping back down. Now in theory the system is de-energized.
Once the HV is de-energized they call for removing the negative battery cable from the chassis and taping it. After doing that you are supposed to remove the negative from the battery (remove current sense connector) and then positive from the battery. You also have to remove the strut tower brace to get the LVB out...though without the luggage tub you could probably slide it out.
This seems extreme. Are dealers going to actually do this whole procedure? Is it too dangerous to replace your own LVB? AutoZone certainly will not do it for you... I also really hope luggage compartment removal isn't necessary as it seems like a massive pain.
Last note - I feel like the HV system de-energization is more of an extra safety thing although it shouldn't actually be needed. DO NOT take my word for that though because you can kill yourself or damage your car if you don't do things the way Ford has said to do it!