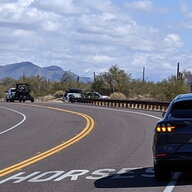 First Name

Jonathan
Joined

Nov 25, 2019
Messages
Reaction score

8,081
Location
Vehicles

Premium RWD SR

Does anybody else notice the car shutting down and making noises near the driver side door and dashboard? I am wondering - because the car makes noise when I walk up - it's waking up noises, powering up to light up the door and the seats and mirrors moving etc... I am wondering if the noises I hear are the shutting down noises. I am literally starting a timing log - if I find a pattern I am going to chalk this up to mechanical activity in the car...
There are various relays in the car that are clicking and clacking regularly. Even while the car is off. Especially if you walk by the car while it's off. Even if you don't have any phone or key on you!
If you're able to upload a video or sound file of the sounds you're hearing, I'll let you know if it's the same sort of thing I'm hearing. But yeah, I think that the relay noises are just normal activity for the Mach-E with its current software and design.
Last edited: