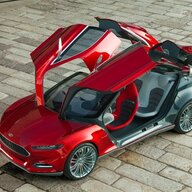 Joined

Jul 13, 2020
Messages
Reaction score

12,471
Location
Vehicles

Lincoln mkx , Ford f-150, Mache

Ford Has seen that EV tech is going to evolve at a quicker pace now. Ford doesn't want to risk millions in old tech.
https://theonlinecarguy.com/2020/08/31/no-advantage-to-having-battery-plant-ford-says/
No advantage' to having battery plant, Ford says
August 31, 2020
DETROIT — Ford Motor Co.'s broad investment in electrification includes money for a slew of hybrids, plug-ins and battery-electric vehicles, but nothing in one area where its biggest rivals are spending billions: battery production.
Even with the Mustang Mach-E coming this year and the F-150 EV and Transit EV expected in 2022, Ford executives say they're content to source batteries from suppliers instead of making their own.
It's the latest fork in the road for automakers as they steer toward an electric future.
Tesla poured $5 billion into the Nevada Gigafactory that churns out lithium ion batteries for its entire lineup in partnership with Panasonic. General Motors this year started construction on an Ohio plant to make its proprietary Ultium battery cells through a $2.3 billion joint venture with LG Chem. Volkswagen and Daimler also are investing in battery facilities.
Ford executives insist their plan allows for more flexibility if EV demand falters or a chemistry breakthrough makes today's battery technology obsolete. They also note that suppliers have boosted capacity to meet the wave of EVs arriving in coming years.
"The supply chain has ramped up since Elon [Musk] built his Gigafactory, and so there's plenty there that does not warrant us to migrate our capital into owning our own factory," outgoing Ford CEO Jim Hackett said on the company's second-quarter earnings call. "There's no advantage in the ownership in terms of cost or sourcing."
The divergent strategies have huge financial implications. Tesla's stock jumped last week after CEO Musk hinted that the automaker would reveal improved battery capacity in September. Wall Street analysts have spoken glowingly about GM's Ultium technology and its potential to support a spinoff EV business.
Sam Abuelsamid, a principal e-mobility analyst at Guidehouse Insights, says both strategies have advantages.
"I don't know that there is a definitively better path," he said. "If you source your own, you'll have a guaranteed supply, but you're potentially stuck with that supply if you can't sell them. If you source from suppliers, if there's a technology breakthrough, you've left yourself flexibility and haven't made a big investment in something that may be prematurely obsolete. It's a bit of a crapshoot either way you go."
Ford's strategy is largely dictated by the size of its EV ambitions.
"They're committing heavily to electrification, but not all battery EVs," Abuelsamid said. "They're doing a lot still with hybrids and plug-in hybrids."
GM, meanwhile, envisions a zero- emission future and plans to make Cadillac an EV-only brand by the next decade.
Hau Thai-Tang, Ford's head of product development and purchasing, said this month on an analyst call that Ford would need to produce 100,000 to 150,000 EVs annually for its own battery plant to make sense.
"We don't have that volume initially to justify that capital expenditure," he said, adding that local content requirements in North America and China further complicate the issue. "There's insufficient scale for any one OEM, other than somebody who's a full-line battery-electric manufacturer like Tesla, to justify that spending."
He left open the possibility that Ford could change its mind as its EV portfolio expands.
A Trefis analysis from January concluded that Tesla's Gigafactory is paying dividends. The study, published in Forbes, estimated the automaker's battery costs fell 45 percent from 2016 to 2019, an average drop of $7,000 per vehicle.
But Ford argues that its reliance on suppliers also could reduce prices.
"It gives us the ability to access the latest technology and innovation across multiple suppliers," Thai-Tang said. "So I know exactly what the state of the art is from the Korean suppliers, the Japanese suppliers, the Chinese suppliers, and I'm able to compare notes across them maybe better than they can. And then, of course, we have the competitive tension with dealing with multiple suppliers, which allows us to drive the cost down."
Despite its insistence that the supply base is prepared, Ford has said tight battery supplies would limit the upcoming Mustang Mach-E to 50,000 vehicles globally in its first year of production.
Still, the company is hesitant to lock itself into a certain type of battery, with Thai-Tang citing Toyota Motor Corp. as a cautionary tale.
"They invested to vertically integrate nickel-metal hydride batteries for their hybrids," he said. "And after spending over $1 billion to do that, the technology shifted to lithium ion, and they were among the last to switch over. I don't want to put Ford in that position."