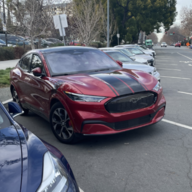 Joined

Nov 28, 2020
Threads
Messages
Reaction score

660
Location
Vehicles

Mustang Mach E First Edition

Frontier Ford in San Jose did an amazing job with the sale of my Rapid Red First Edition. We had been in contact for weeks with the idea that if a customer cancelled vehicle became available that I'd rush to the dealership in hopes of being first in line.
Once we got down to business I was happy that all of the incentives and rebates were honored including:
No ADM
X-Plan accepted
$100 discount for future self-drive upgrade
$1500 for California Clean Fuel Rebate
$2500 incentives for Ford Options
2.25% APR for options (credit score 750)
I had pre-calculated my out the door monthly payments included sales tax and registration fees and the number the dealership came back with was only about $20 more than what I calculated.
I decided to add GAP coverage and a 4 year bumper to bumper warranty which bumped the price up somewhat. For reference for anyone interested in Ford Options, the deal was : 48 months with $7,000 down for a little more than ~$800 monthly.
THE CAR:
The driving experience is just short of incredible. Acceleration is smooth and instant. Coasting is fun knowing you can hit the gas at any point to charge forward aggressively and smoothly. I smiled ear to ear multiple times when coasting and then pushing the pedal about 25% and picking up speed quickly. It's unlike any ICE vehicle in that it is quick and quiet. It's so quiet that it's hard to understand how fast you're going until you look at your speed.
There are electric motor sounds that sound intentional and soothing. I drove mainly in Engage and felt that it was the most like a regular car. Whisper seemed a little too relaxed and Unbridled… well…. it's a little too aggressive in braking when letting off the accelerator. Maybe I'll get used to it over time but I felt as though I was speeding up and immediately slowing down over and over again. I do love the graphics on both screens for unbridled, but I disliked the drive mode initially.
Braking seems and sounds a little aggressive, but only a little. The Kia Seltos I traded in had extremely aggressive brakes and I loathed them. The Mach E's braking is mostly even with a little bit of extra pullback depending on speed. With only about 30 cumulative minutes of driving I imagine I will figure out the proper pressure for smooth stops.
I can hear an audible mechanical sound behind the driver screen. I've seen some others mention it. It is very audible when the car is running but not moving. Once the car is moving and/or the radio is on you can't hear it.
PAAK is relatively awful. I was able to get it to work for a grand total of 3 minutes. Since it has failed and now doesn't even show an activated phone as a key in the Ford Pass App. In all practicality I will probably never use it (unless a significant OTA makes it reliable). I fear that it will run my phone battery out since it wants to be on in the background constantly.
I need to go through and play with a lot of the settings. I was able to make a profile, but I realize that some of the seating settings need to be updated. Also the car honks loudly when I walk away and I'll need to fix that. I already pay for Sirius Satellite Radio so I'll need to figure out how to transfer it from my previous car to the Mach E.
ALSO
as I was driving home I saw another Rapid Red Mach E zoom past me on 280 freeway. Very exciting that others are also taking delivery!
Here are a bunch of photos. I tried my best to white balance correctly to accurately display the shade of red of the car: