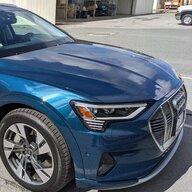 Joined

Dec 4, 2020
Messages
Reaction score

181
Location
Vehicles

2021 Audi e-tron

I am lucky to have one of the earliest delivery dates I've seen on this forum (as early as two days away!), which also means that I have been among the first people experiencing the agony of waiting for information each time my vehicle enters a new and relatively uncharted stage of the process.
As best as I have been able to find, these are the most straightforward ways to get information about your vehicle along the way:
Pre-fabrication: Your Ford reservation page. Until you get a VIN (which can also be found here) this is the best spot to find your planned production date.
Fabrication: The Mach E forum VIN tracker. Previously www.macheforum.com/site/pages/tracker. This will let you follow your vehicle through production and into shipping.
Mexico-to-US transit: www.palsapp.com. This is a bit hacky, since this information is really for the next step in the process, but a manifest is generated at the time the vehicle leaves the Mexico plant.
US hub (Kansas City, MO) to regional distribution: Also palsapp. The manifest covers transportation from the Mexico train to the next distribution point. In my case, that is the Argentine rail yard in Kansas City.
Regional distribution: Information black hole. At this point, I have nothing. I can infer that my vehicle will be travelling on a BNSF train to a regional hub in northern California, but I haven't found any way to track that shipment. (This is despite reaching out to BNSF in two different ways, they don't seem to care much about me unless I can tell them how many traincars worth of product I want to move.)
Has anyone found tools to track an order past the train yards of Kansas City? This probably isn't a widely requested bit of information yet, but I'm sure it will be a headache for others as distribution continues.