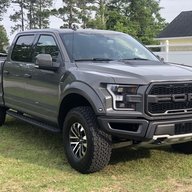 First Name

Mark
Joined

Feb 13, 2020
Messages
Reaction score

160
Location
First Name

Mark
Vehicles

Tesla Model 3 AWD(OLD), Ford Raptor
Occupation

Manufacturing

Hello All,
I've owned my Model 3 for a year and a half now, and just this past weekend I decided to get rid of it. This last Tesla service visit really struck a nerve with me and made me decide to get rid of it sooner than I had hoped.
Over the last month, I starting having a terrible squeaking sound coming from the right front side of the car. It was getting worse as time was passing, and it was the upper control arm failing. I made an appointment for Tesla to see it, and rotate the tires. 30,000 miles on the car, by the way. Once I got the car back, on the way home the right side aero cover came off going down the interstate (mechanic didn't properly put the covers back on the wheels). Car behind me run right over it. Immediately when I get home, I text and email the service center (only means of communication). No response. So I am forced to call the Tesla hotline and explain to the guy what happened, so he says ok no problem. Put me on hold for 5 minutes to only hang up and not call me back. Great. Now I have to call the 1-800 hotline and explain everything all over again. So I do that and this next guy gets a hold of them and says someone will be contacting me shortly about the issue.
I wait a day, and no call or email. So I call the 1-800 number again. Keep in mind this is now day 4 of no answer from Tesla on getting a replacement aero cover. This time this guy tells me how to get ahold of the service center, so I give it a go. If you're not familiar with Tesla, it is almost impossible to call your local service center. I live two hours away from it so driving there to talk to someone is not in the cards. So I call maybe 10-15 times, leave voice mail messages, and no one calls me back. A few days go buy and I call the number again, and I finally get a hold of someone. They guy says, oh sorry about that - I'll ship you a new one out and it should be there tomorrow. I'll text you the tracking number. Hang up, and another day goes by where the package doesn't show up and I get no tracking number.
I have to call the service center back two more times before they finally get me a tracking number and say oops we forgot to ship it.
With that being said, this is one experience out of the 5 terrible experiences I've had with Tesla over the past year and a half of ownership. Car has been nothing but headaches dealing with them. I've never had a good service center experience. I've posted multiple times in this forum how bad it is, and when I post on any Tesla forum I get target and disregarded as some Tesla hater or stock shorter. Folks, Tesla service is going to be the demise of that company.
So I took my car to my local ford dealership, traded it in and bought a brand new 2020 Ford Raptor, my dream truck. Mach E isn't out yet, and I couldn't wait any longer dealing with the god awful Tesla service department. The Ford dealership was amazing and it was a no pressure sale, gave me an excellent trade in price for my Tesla and overall made me want to buy another vehicle from them when the Time comes.
My Tesla was delivered in a parking lot rushed with no one having a clue how the car operates. It's like two totally different worlds, and glad to be back with a Legacy car maker.
Here is the beaut:
Thank you all for your time,
Mark