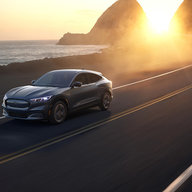 First Name

Claude
Joined

Mar 28, 2020
Messages
Reaction score

787
Location
Vehicles

Mustang Mach 3- Tempo- Malibu(3)-Actual Kia Sportage AWD
Occupation

Retired

Before I get my reservation into an order I had these thoughts about the possibility of changing my Premium SR AWD with the ER option.
It's always a surprise to read that in North America people won't buy an EV unless it has a 300 mi/485 km range, when in Europe people are talking more of a 185 mi/300 km. Of course driving a few hours in NA means you are probably not leaving your state or province, but in Europe you might cross a few countries border line, so that might explain this. Will I change my SR for an optional ER? Let's see.
My daily commute average is around 40 mi/65 km so no, ER is not requested here.
The next most important thing is summer/winter range. Let's say that in summer the MME will probably gain at least 15% range going from 210 mi/335 km to 240 mi/385 km, in winter it could be losing 35% or more, going from the 210 mi/335 km to 136 mi/219 km. So far so good no ER needed. Also final EPA ratings might be a bit higher. The equivalent WLTP rating is for now 261 mi/420 km.
Now what about road trips? My family visit road trips vary from 150 mi/245 km to 506 mi/815 km., the shortest distance we do regularly, but we always plan a lunch break on route and where we stop they have charging stations. For the other ones, let's just say that my prostate does not allow me to do more than 2 hours stretch. Using a trip planner like Plugshare helps in viewing charging stops, having a good idea of the charging infrastructure and, yes the MME will have its own trip planner included, but in the meantime Plugshare can show you the charging infrastructure availability on your preferred road trips. I had also checked a vacation one and it's no problem. No need for ER here.
The gain in range with the ER battery on a Premium AWD would be 60 mi/100 km, but is it worth $7000 dollars in the US or $9000 in Canada, surely not for me, so I will keep my Premium has reserved.
I invite you to watch this Transport Evolved You Tube video, where Nikki Gordon-Bloomfield express her thought about this continues race for more range and bigger batteries.