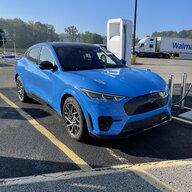 First Name

Sam
Joined

Feb 21, 2021
Messages
Reaction score

409
Location
Vehicles

2021 Mach-E FE

Sorry I didn't post this earlier. I thought someone already had. Then I was reading a thread about DC fast charging issues and searched the forum for this SSM and didn't see that anyone had posted it. If I missed that and someone has posted it my bad. Looks like Ford updating the OBCC will help a lot of our DC Fast charging woe's. I have DTCs in mine from the last time I DC fast charged and it failed. It appears that it gets a 'signal plausibility failure' (in my case) while charging or attempting to start charging. This means that the OBCC thinks the signal to talk to the charger is compromised and stops charging in case it can't control the voltage/current coming from the charger. It appears to be erroneous. It seems it also fails out if it thinks that it is going to lose power for low voltage to the OBCC. Not sure why that would ever happen as the DC DC is on during charging.
SSM 49603 - 2021 Mustang Mach-E - February 22, 2021 - Illuminated Powertrain Malfunction (Wrench) Indicator With DTCs - HV Battery Not Charging At Level 3 DC Fast Charging Station/EVSE
Some 2021 Mustang Mach-E vehicles experience an illuminated powertrain malfunction (wrench) indicator with diagnostic trouble codes (DTC) U3000-16, U3000-64, U3000-04 and/or U3000-45 in the off board charging controller (OBCC) module and the high voltage (HV) battery will not charge using a level 3 DC fast charging station/electrical vehicle supply equipment (EVSE). The HV battery will still charge with a level 1 and level 2 EVSE. The customer can disconnect the Level 3 DC fast charger coupler from the vehicle, then reconnect to reset the OBCC and allowcharging. Engineering is currently working on a revised OBCC calibration to correct for this concern that should be available late May 2021. Let the customer know they can continue to drive the vehicle and schedule a follow-up appointment for repair in June 2021. Monitor OASIS for updates.
End SSM
OBCC U300 Code definitions