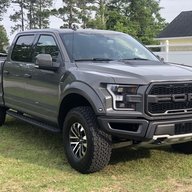 First Name

Mark
Joined

Feb 13, 2020
Messages
Reaction score

280
Location
First Name

Mark
Vehicles

Tesla Model 3 AWD(OLD), Ford Raptor
Occupation

Manufacturing

Electrify America's DCFC network has a very good coverage of the US currently.

EA Status:
406 locations in the USA with 1400 stalls with 70 more locations coming this year (supposedly)
Average of 4 stall per location
150kw up to 350kw capability
Along major interstates and roadways, typically near Points of interest.
Coast to cost travel, east - west and north-south possible
By the end of this year when Mach E's are delivered, we should have roughly 480 chargers to pick from in the USA which is continued to grow.
Tesla's SC network as of 2017-2018
(when buyers decided to purchase a model 3)
373 supercharging locations with 2,736 stalls in the USA in 2017 which grew to 600 by end of 2018.
Average of 7 stalls per location
150KW capability
Slowly rolling out 250KW capability to new chargers
Along major interstates and roadways, typically near points of interest.
Coast to coast travel, east-west and north-south possible.
I think that the current EA charging network is adaquit enough location wise, considering when we look back at history and what Model 3 owners bought and were willing to deal with.
Future expansion:
EA - 800 total charging station sites with about 3,500 chargers by December 2021
Tesla - 846 total charging sites (estimate) with an estimated 6,046 stalls by December 2020
Thoughts on this? When we look back at what sold people on the Model 3 part of it was Tesla's supercharging network. Well, EA's supercharging network in my opinion is growing equal and at the same point that Tesla was at when it released their mass market car. The only difference is the Lack of stalls at each location, which shouldn't be an issue.
There are also currently 250+ other CCS 3rd party DC fast charging locations in America (ChargePoint & others) capable of outputting a minimum of 50kw/hr. That will grow with EA's network and all be shown on the SYNC 4.0 system.
By the end of 2021, we could be looking at 1,200+ total DC fast charging options with CCS. That is across all suppliers of chargers. 50KW/hr minimum DC charge rate.
Last edited: