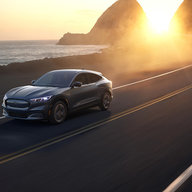 First Name

Claude
Joined

Mar 28, 2020
Messages
Reaction score

163
Location
First Name

Claude
Vehicles

Mustang Mach 3- Tempo- Malibu(3)-Actual Kia Sportage AWD
Occupation

Retired

There is one negative to this that I can think of... chargers could be tied up longer, making it harder to get into one. The old per-minute pricing made it progressively expensive to charge past 60%... 70%... 80%... as the charge curve slowed. It was more likely people would move on after 20-30 minutes because of that progressive cost penalty.

But now, that cost disincentive is lifted. People will be more willing to charge deeper, perhaps walking down the street for a 60-minute sit-down meal instead of a 20-minute take-out burger. The 40c/minute idle fee still kicks in if they wait too long, but that has a 10-minute grace period after reaching 100% SOC. That could be 30 minutes longer than the normal 80% stopping point.
I"m not sure of that, what would be the point of charging to 100% if charging to 80 % is enough for youy to make the next leg? Besides we all know that charging the battery to 100% is not necessaraly a good idea, costly or not.