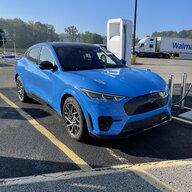 First Name

Sam
Joined

Feb 21, 2021
Messages
Reaction score

414
Location
Vehicles

2021 Mach-E FE

TSB 21-2123 - 2021 Mustang Mach-E - Level 2 Charger Inoperative - Built on or Before 14-April-2021 - Released April 22 2021
TSB PDF attached if the copy and paste looks wonky feel free to download the PDF. This is the 2nd TSB for the 2021 MME. They have a fix for all of the weird L2 charging issues for some people, especially those in IL...
TECHNICAL SERVICE BULLETIN
Level 2 Charger Inoperative

21-2123
21 April 2021​

Model:

Issue: Some 2021 Mustang Mach-E vehicles built on or before 14-Apr-2021 may exhibit an inoperative level 2 charger (220/240 volt) at a customer's residence but charging performance operates as intended at a dealership or other locations. This may be due to differences in local electrical power grids. To correct the condition, follow the Service Procedure to reprogram various modules starting with the PCM.
Action: Follow the Service Procedure to correct the condition on vehicles that meet all of the following criteria:



• 2021 Mustang Mach-E
• Built on or before 14-Apr-2021
• Level 2 charger inoperative at customer's home


Warranty Status: Eligible under provisions of New Vehicle Limited Warranty (NVLW)/Service Part Warranty (SPW)/Special Service Part (SSP)/Extended Service Plan (ESP) coverage. Limits/policies/prior approvals are not altered by a TSB. NVLW/SPW/SSP/ESP coverage limits are determined by the identified causal part and verified using the OASIS part coverage tool.
Labor Times


| | | |
| --- | --- | --- |
| Description | Operation No. | Time |
| 2021 Mustang Mach-E: Reprogram The Appropriate Modules As Required By The Software Update And Service Procedure (Do Not Use With Any Other Labor Operations) | MT212123​ | Actual Time​ |

Repair/Claim Coding


| | |
| --- | --- |
| Causal Part: | 10B689 |
| Condition Code: | 04 |

Service Procedure
1. Connect a battery charger to the 12-volt battery.
NOTE: Verify that the negative cable of the charger is installed on a chassis or engine ground, and not the 12-volt battery negative terminal to prevent the battery saver mode from activating on the vehicle. Do not have the vehicle plugged into the high voltage battery charger during programming. This can cause modules to not program correctly; only have the 12-volt battery charger installed.
2. Reprogram the PCM using the latest software level of the appropriate Ford diagnostic scan tool.
3. Check the availability for software updates on the following modules and update as required:


Secondary on board control module (SOBDM)
Battery energy control module (BECM)
Secondary on board control module B (SOBDMB)
Secondary on board control module C (SOBDMC)
Anti-lock brake system (ABS)

NOTE: Only one module may be updated at a time.