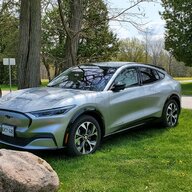 First Name

Joe
Joined

Feb 26, 2021
Threads
Messages
Reaction score

726
Location
Vehicles

Mustang Mach-E Premium AWD Extended Range Battery

I just took the family for our first camping trip in the Mach-E, and I couldn't be happier with the amount of cargo I was able to haul in my MME. In particular I was really impressed with the amount of camp gear I was able to stow away in the Frunk!
- 1 Large sized 14' x 14' screen house tent
- 1 Large sized 8 person tent
- 1 full sized camp chair
- 3 compact camp chairs
- 1 picnic mat
- 1 compact sleeping mat
- 1 1lb propane cylinder
- 1 hammock
- 1 Tire inflator kit with coiled extension hose
With all that gear just in the frunk alone, the Mach-E has all the storage space a family of 4 needs for a very comfortable car camping adventure. There was no need to compromise on what I could or couldn't bring, and we pretty much brought everything but the kitchen sink without issues!
In fact, my wife originally suggested we take our 7 seater Kia Sorento on this trip to ensure we had the space we needed, but I insisted the Mach-E was more than up to the task, and I was not disappointed!
With that said, I just wanted to say thank you to the engineers at Ford who did not take the easy way out on this vehicle like the VW ID4, and instead took the time to build a proper sports utility vehicle with a very usable front trunk! Had it not been for the frunk, I'm certain we would have had to leave the Mach-E at home, so kudos for a job very well done! ?
This is a very sexy and sporty family vehicle with plenty of real world range and UTILITY! By the way I averaged about 4.4 km/kwh on this trip with the vehicle fully loaded, not to mention the fact that I'm running 235/55/19 CrossClimate2 tires as well, which have a very aggressive tread pattern, and are nowhere near as energy efficient as the stock tires.
Last edited: