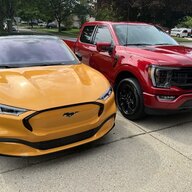 Joined

Nov 12, 2021
Threads
Messages
Reaction score

457
Location
Vehicles

2021 F-150 Lariat PB, 2022 Mach-E Premium AWD ER

My point is simply that, while yes there are still many holes where we need more DCFC chargers, dealerships are usually not good fits for them. A shopping plaza with restaurants in the lot is better... a convenience store is better... a mall is better... a grocery store is better...

Those are the types of things most people would find useful to kill 30 minutes at during a charge, not car shopping.
Yeah I agree totally, I would rather sit almost anywhere but a car dealership. I never for a second said otherwise so my misunderstanding on your response was that I didn't see why you were countering something I never said. But while dealerships can't really be forced to install them, they are a more easily encouraged candidate for them and are already pretty spread out.
My ideal situation would be more states installing fast chargers at the already pretty perfectly spaced out rest stops on most major highways. I am guessing that many of those don't have the electrical infrastructure for it though. My issue with most other stops, even if it were dealerships or McDonalds or whatever, is how easy it would be to get back on the highway. With rest stops its almost always extremely easy, and a 20-30 minute rest stop every couple hours would keep you on a good pace for charging and driving.