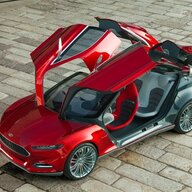 Joined

Jul 13, 2020
Messages
Reaction score

12,697
Location
Vehicles

Lincoln mkx , Ford f-150, Mache

Five-Hour Search Converts Longtime Tesla Owner to Mustang Mach-E Owner By Lunchtime
A collective of several Ford team members from southeast Michigan and Florida were able to locate a Mustang Mach-E for first-time Ford customer Chris Chuong, who was previously a longtime Tesla owner.
With two-thirds of online reservations for Mustang Mach-E being converted to orders, it can be difficult for customers to find an available model at a dealership showroom. However, thanks to the efforts of a group of Ford employees and a helpful Florida-based Ford dealer, the company was able to convert a longtime Tesla driver into a first-time Ford owner between the time it took him to eat breakfast and lunch.
After being awestruck by a red Mach-E about a month ago and seeing positive reviews online, Chris Chuong set his sights on the Mustang Mach-E. Chuong, of Tarpon Springs, Florida, near Tampa Bay, knew he wanted something different after owning six Teslas, but the Ford dealers he contacted only had display models, nothing available for immediate sale.
Undeterred, Chuong reached out for help on twitter. There, he was fortunate to get some quick help from a collective of Ford team members spanning from southeast Michigan to California and Florida who were able to locate a Carbonized Gray Metallic extended range Mach-E at Ford of Clermont. The team included:
Todd Rabourn, Field Operations Manager
Cayla Whitcomb, Marketing, Sales and Service, Orlando region
Richard Brisson, Ford Customer Service, Orlando region
Martin Field, Customer Experience
Donarius Burr, Marketing, Sales & Service, Orlando region
Brad Brownell, Director, Global Contact Centers
Chuong and the Ford team exchanged communications beginning around 7 a.m. and the regional field team led by Todd Rabourn had located the Mach-E for Chuong by lunchtime. So impressed with the effort, as well as online reviews and a previous test drive of another Mach-E, Chuong bought the vehicle sight unseen and took it home a few days later.
Chuong and family with his Carbonized Gray Metallic extended range Mach-E.
Chuong is among 70 percent of Mach-E customers who are new to the Ford brand. The extra effort, outlined in the Ford+ plan, such as treating customers like family, was a big factor in his decision to buy the electric pony car.
"We should always be thinking about how we can offer exceptional customer service as part of our everyday roles," Rabourn said. "Amazing, must-have products like the Mustang Mach-E are only part of the equation. We have to go the extra mile for customers to keep Ford on the right track."
"One of the biggest things was the fact that (they) had worked and made it happen was enough for me to buy this car," Chuong said. "That is kind of unheard of for that to happen. The customer service was amazing."
Chuong added that his Teslas couldn't match the quality of his new Mach-E.
"(It's) so much better than Tesla," the Ford convert said. "It felt more solid and more comfortable. You can tell it was built by a company that has experience and there's attention to detail and making sure it was done right."
Chuong's first trip in the Mach-E was to Costco, where the all-electric SUV was a head-turner.
"Every single person I passed did a double-take," he said. "It was something they had not seen before."