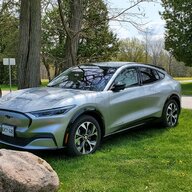 First Name

Joe
Joined

Feb 26, 2021
Threads
Messages
Reaction score

787
Location
Vehicles

Mustang Mach-E Premium AWD Extended Range Battery

Anyone have experience or advice when it comes to winter tires with a EV SUV?

Since I've been in Michigan I always get a second set of wheels and tires for winter.

Since I'm bored and think of stuff like this I've been looking at options and prices. I've been able to find 225/60 R18 Blizzak as one option.

Just curious if anyone has input on the general idea of winter tires on a EV SUV.
I got myself a set of 235/55R19 105H Michelin CrossClimate2 to replace the stock tires. I have not run them in the snow yet, still waiting on our first snowfall, but reports indicate that it's an excellent all weather tire, and is actually rated with the 3 peak mountain snow flake like a dedicated winter tire.
With that said it won't outperform a top rated snow tire in the snow, but it will outperform many mid tier snow tires, and in terms of overall performance will definitely outperform any dedicated winter tire in all around performance such as dry and wet weather etc..
I live in Toronto, Canada and although we see quite a bit of snowfall here, the plows are out quick and 95% of my winter driving takes place on plowed roads. Which means realistically the Michelin CrossClimate2 should perform better than something like a Blizzak most of the time based on the actual winter conditions we find here in the city, whereas a dedicated Winter tire will usually perform rather horribly in dry weather (even when cold). The bonus is that I also no longer need to swap tires or wheels for the winter as well.
For context (if it matters) I have always run the latest and greatest Blizzak available on my vehicles in the winter, and I can tell you that in wet and dry traction the Michelin is hands down orders of magnitude better performing in those conditions based on my experience with 3 sets of Blizzaks over the years.
If you want a more objective idea of how it stacks up, watch below: