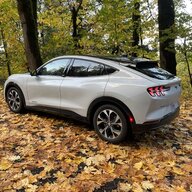 First Name

Steve
Joined

Oct 15, 2021
Threads
Messages
Reaction score

787
Location
Vehicles

Mach E Premium SR RWD

I've taken a lot of measurements of regen in a lot of modes, and while there are longer threads on it, here are a few important points:

You can regen a significant amount of energy. On a typical 1 hour route I drive that is fairly flat, but with rolling hills and some stop and go, I've calculated that regen is giving me about 25% of my range. That is huge, and a great advantage for EVs.
All driving modes use regen, 1 pedal, normal, L, whisper/engage/unbridled. So use whichever you are most comfortable with.
The car will regen when you let off the pedal (more aggressively in 1PD, less so in normal mode), and will ALSO regen when you press the brake pedal. The only time the car uses the friction brakes are to hold you at a stop (after you've already stopped), or if you call for more than ~0.2gs of deceleration, by any means.
If you make an effort to slow gradually, you'll maximize your regeneration, and thus your range. Do so in whichever mode feels most natural for your (though I like 1PD, Engage). Turn on the "Brake Coach" to show you how effective your slowing is at recapturing energy.

Hope that helps.
Excellent summary. I gather that many posters wrongly assume that regen only happens with one pedal…. It happens when you use the brake pedal as well.