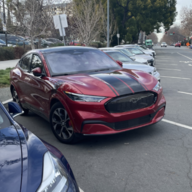 Joined

Nov 28, 2020
Threads
Messages
Reaction score

654
Location
Vehicles

Mustang Mach E First Edition

I apologize if this thread is in the wrong forum or has been discussed previously.

I am in California and just received my Vehicle Registration Renewal notice from DMV. The fees add up to $730 including a $364 registration fee and a $345 license fee. Oddly enough the weight fee is $0.

$700+ is about ~$300+ more than I have ever paid for vehicle registration. The most expensive car I've owned previously was around $435 a year (which was much higher than any other I had owned previously).

My questions:
1. Is $700+ what all other Mach E owners are getting? In California? Across the U.S?
2. Are other similarly priced vehicles (~$60,000) being charged the same for registration?
3. Is this change related to the 250% proposed registration fee in California?
4. Is there anything that can be done to lower the fee?

With all the money saved on gas with this vehicle, I might as well have started a piggy-bank to pay the higher registration. I don't want to feel as shocked as I feel, but it's almost $1000 to register this vehicle. What gives? What am I missing? Thanks.